Champions interested in line player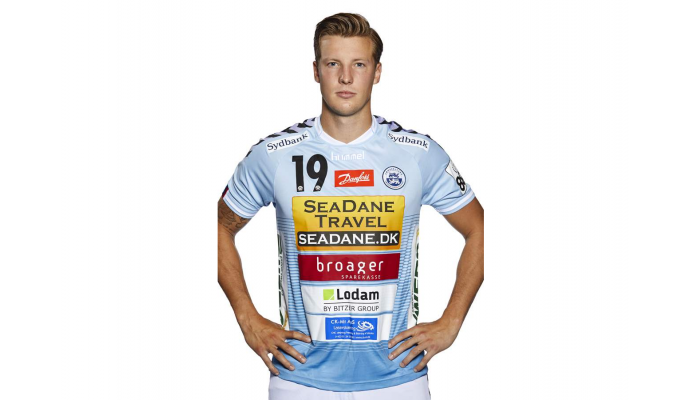 Photo: https://soenderjyske.dk/
Written by: Rasmus Boysen
The Swedish champion IFK Kristianstad is interested in the Swedish line player of the Danish League club SønderjyskE, Adam Nyfjäll.
According to informations from the Swedish newspaper Kristianstadsbladet, the Swedish champion IFK Kristianstad are in contact with the Danish League club Sønderjyske's Swedish line player Adam Nyfjäll.
The newspaper reported Tuesday that IFK Kristianstad showed interest in Sävehof's right back Gzim Salihi (read more here). Now, also 25-year-old Adam Nyfjäll, who is originally from Lysekil in Sweden and has previously played in Redbergslid IK, Kärra HF and GF Kroppskultur in Sweden, is on the block. Through a trip to Norway (Viking Stavanger, Falk Horten and Haslum HK) he went to SønderjyskE for the previous season.
"It's been going well, especially this season, and has obviously opening for interest. But I try to focus on this season. It's still early and I'm looking for opportunities. I can not say more than that," says Adam Nyfjäll to Kristianstadsbladet. He also confirms that there is interest from IFK Kristianstad.
"I'm very excited about it. Now I do not know how you've heard this, but it is clear that Kristianstad is a great club. But I still have an employer, so far I still play in Sönderjyske," he states to Kristianstadsbladet.
Adam Nyfjäll's contract expires after this season and he is therefore free to go to other clubs. In IFK, Mario Lipovac has a contract, while Arnar Freyr Arnarsson has a clause that allows him to leave. A clause that must be activated by the end of February.
IFK Kristianstad sports director Jesper Larsson on the interest in Adam Nyfjäll: "It is a player I know at least, but nothing is clear. We also look wide there. We have talked to some players, while we have not talked to others," he says.