Palmarsson in a race against time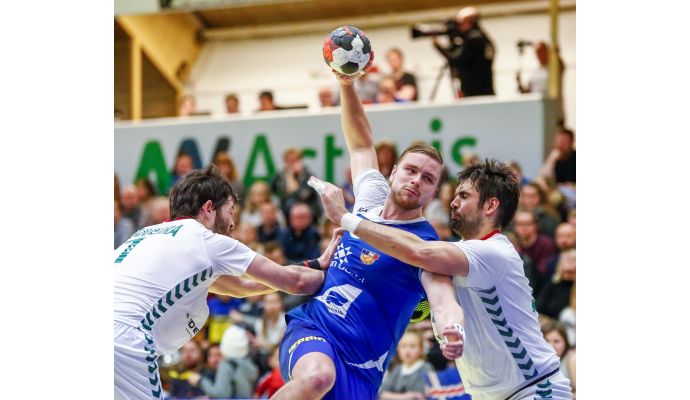 Photo: hsi.is
Written by: Rasmus Boysen
The biggest star of the Icelandic national team, Aron Palmarsson, is in a race against time to become ready for the World Championship.
After perpetuated consultation with the Icelandic medical team coach Aron Pálmarsson did not go to Denmark for the test matches of Iceland due to an injury. Instead he stayed in Iceland to continue to get treatment over the weekend.
"I got a injection three days ago and it is doing quite well. The body is taking it well, and I will fly out on Monday, meet the boys in Denmark and go to France," states Aaron Pálmarsson to Visir.
"We have done everything we can do. As I have said before, we are in a race against time. The injection was the last chance. This injection was successful so I am fairly optimistic now," the Icelandic playmaker of Telekom Veszprém said.
Could he imagine to start outside the final Icelandic squad, to get more time to recover from the injury?
"If the coaches feel it as the optimal choice, I am of course ready for it," concluded the 26-year-old Icelandic national player to the Icelandic newspaper Visir.
In contrast to Palmarsson, Ásgeir Örn Hallgrímsson and Arnor Atlason, which both have been wrestling with injuries, have been reported ready for the World Championship.
Earlier, Robert Gunnarsson, Alexander Pettersson and Snorri Gudjonsson have chosen to retire from the national team.
You can get the overview of the injuries before the World Championship here.
Read also: Palmarsson confirms Barca interest
Fact box:
Name: Aron Palmarsson
Date of birth: 19.07.1990
Nationality: Icelandic
Position: Playmaker
Height: 193 cm
National caps: 107 (416 goals)
Clubs:
1998–2009: FH Hafnarfjörður, Iceland
2009–2015 THW Kiel, Germany
2015–?: Telekom Veszprém, Hungary