Källman new captain of Sweden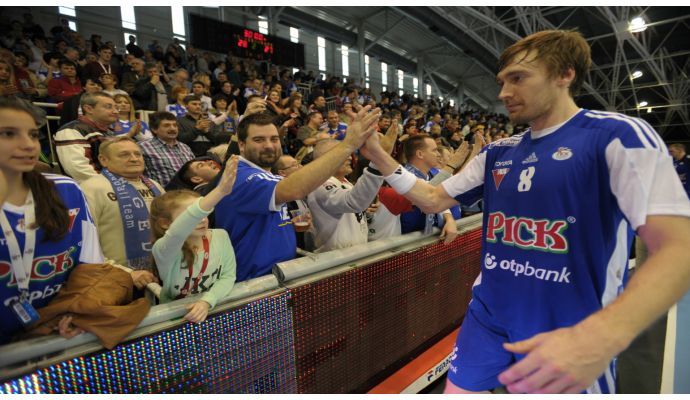 Photo: pickhandball.hu.
Written by: Rasmus Boysen
The 35-year-old Swedish left wing Jonas Källman is chosen as new captain of the Swedish national team.
After the former captain of the Swedish national team, Tobias Karlsson, and several other experienced players as Kim Andersson, Mattias Andersson and Fredrik Petersen have retired, the new head coach of Sweden, Kristján Andrésson, has chosen the experienced left wing of MOL Pick-Szeged, Jonas Källman, as Karlsson's successor:
"An obvious choice for me. My assessment is that he is the leading figure best suited to take on the mission. Jonas has been vice-captain behind Tobias Karlsson and is the one I have the best track of as a potential leaders who are in the team. I have had a good dialogue with Jonas. Jonas is just 35 years. This is no age. It is the same age as me. It is not certain that Jonas will be captain over the next Olympics, but I expect and hope that he has a couple of years left. This also gives me time to see which multicore types there are among the younger in the play group," Kristján Andrésson states to Aftonbladet.se, who revealed the news.
Captains of the Swedish national team for the last 20 years:

-1996: Per Carlén
1996-2006: Stefan Lövgren
2006-2010: Kim Andersson
2010-2016: Tobias Karlsson
2016– Jonas Källman
Fact box:
Name: Jonas Källman
Date of birth: 17.07.1981
Nationality: Swedish
Position: Left wing
Clubs:
–2000: Växjö HK, Sweden
2000–2002: IFK Skövde HK, Sweden
2002–2011: BM Ciudad Real, Spain
2011–2013: Atlético Madrid, Spain
2013–2014: IFK Skövde HK, Sweden
2014–?: MOL Pick Szeged, Hungary
Achievements:
Champions League: 2006, 2008, 2009.
Cupwinners Cup: 2003
EHF Champions Trophy: 2006, 2007, 2009
Spanish champion: 2004, 2007, 2008, 2009, 2010
Copa del Rey: 2003, 2008, 2012
Cup Asobal: 2003, 2004, 2005, 2006, 2007, 2010
Spanish Super Cup: 2005, 2008, 2011, 2012
EHF Cup: 2014
Olympics in London 2012: silver.
The player of the year in Sweden 2008-09.
On the allstar team of the Olympics 2012 in London.