Bebeshko stays in Brest to 2020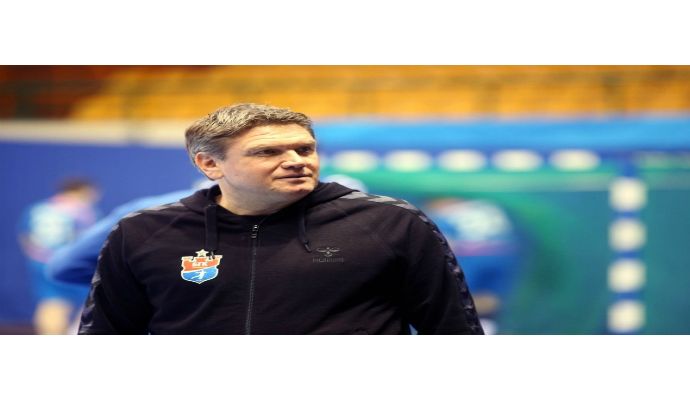 Photo: BGK-Meshkova.com
Written by: Rasmus Boysen
The Ukrainian head coach of the Belarusian champions BGK Meshkov Brest, Sergei Bebeshko, extends his contract to the summer of 2020.
Bebeshko has a long career as both player and coach - peaking at the Olympics in Atlanta in 1992, where he won gold with the Commonwealth of Independent States.
The Ukrainian coach, who previous has coached BM Huesca (Spain), BM Toledo (Spain), HC Dinamo Minsk (Belarus) and Motor Zaporozhye (Ukraine), replaced Zejlko Babic (head coach of the national team of Croatia) in Brest before last season. The financial strong Belarusian team had a great last season playing the round of eighteen in the EHF Champions League and the SEHA Gazprom League Final4.
Signings of BGK Meshkov Brest this season:
Rade Mijatovic. Montenegrin goalkeeper. 1+1-year contract. (Grundfos Tatabanya KC, Hungary)
Rajko Prodanovic. Serbian right wing. 1-year contract. (MOL-Pick Szeged, Hungary)
Iman Jamali. Hungarian/Iranian left back. 1-year loan deal. (Telekom Veszprém, Hungary)
Andrei Yashenko. Belarusian left back. (HC Gomel, Belarus)
Andrei Yurynok. Belarusian left wing. Back from loan. (SKA Minsk, Belarus)
Vladislav Ostroushko. Ukranian left back. (Lekhwiya SC, Qatar)

Fact box:
Name: Sergei Bebeshko
Date of birth: 29.02.68
Nationality: Ukrainian
Position: Head coach

Clubs as player (playmaker):
1985-1992: SKA Minsk, Soviet
1992-1993: BM Cuenca, Spain
1993-2000: CB Ciudad Real, Spain
2001-2002: EBIDEM Melilla, Spain
2002-2004: Villeurbanne HBA, France
2004-2006: Saint-Cyr Touraine, France

Clubs as coach:
2006-2008: BM Huesca, Spain
2008-2009: BM Toledo, Spain
2009-2013: HC Dinamo Minsk, Belarus
2013-December 2014: HC Motor Zaporozhye, Ukraine
2015-?: BGK Meshkov Brest, Belarus