Official: Damgaard to Göppingen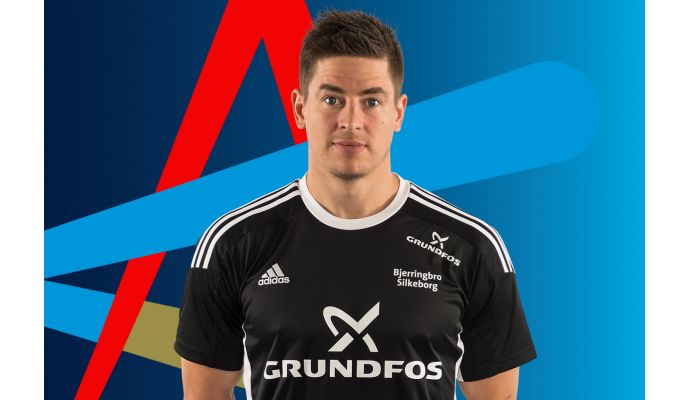 Photo: Bjerringbro-silkeborg.dk
Written by: Rasmus Boysen
Now it is official! The 30-year old Danish playmaker of Bjerringbro-Silkeborg, Allan Damgaard, has signed a 2-year contract with the German Bundesliga club Frisch Auf Göppingen from next season to 2019.
Press release from Frisch Auf Göppingen:
In the summer of 2017, the Danish national player Allan Damgaard moves s to Frisch Auf Göppingen from his current club Bjerringbro-Silkeborg from the Danish handball league to Frisch Auf Göppingen in the DKB Handball Bundesliga. Allan Damgaard has previously played in Rödby, Viborg and Mors-Thy, before moving to Holstebro. In the final four tournament for the EHF Cup 2012/2013 he was already in the team of the Team Tvis Holstebro, in the game for the 3rd place against FRISCH AUF!. For the season 2015/16 his journey led him to HSV Hamburg, where he made a good start in the German Bundesliga under coach Michael Biegler. After the bankruptcy in January 2016, however, the changed back to Denmark to Bjerringbro-Silkeborg, where he immediately contributed to the 2016 Danish Championship. Meanwhile, the Danish champions play a good role in the current Champions League and Damgaard already has scored 17 goals in 5 games.
Allan Damgaard is in the back court. The creative playmaker is 30 years old and measures 1.85 m. To date, he has played 5 national matches. The greater international experience results from his assignments in the Europapokal for the clubs from Holstebro and Bjerringbro-Silkeborg. In the quarter-finals of the EHF Cup 2015/16, the Danes failed only close to Granollers. In the Danish league, Bjerringbro-Silkeborg is currently on table place 2 after 8 gamedays. Damgaard is currently with 47 goals number six on the scorers list. That Allan Damgaard with a total of 6 time penalties also in this statistics is represented, testifies to his deployments in the defensive, in which he fulfills the tasks to the satisfaction of his current coach Bredsdorff-Larsen.
With the change to FRISCH AUF! Allan Damgaard, whose brother Michael plays at SC Magdeburg, would like to continue working on his childhood dream as a handball player abroad and especially in the German league. At HSV Hamburg, he was already on his way there before he had to interrupt the project without fault. So in July 2017 the second start begins.
"Allan is a typical playmaker with a lot of understanding of the game so he will fit well. In Hamburg and also now in Bjerringbro-Silkeborg he is playing at a high level. "FRISCH AUF! - Managing Director Gerd Hofele is very satisfied with the Allan Damgaard transger of FRISCH AUF!
"With Allan Damgaard we are committed to a game maker for the coming season, which fully meets the requirements profile of our coach Magnus Andersson."
Allan Damgaard and FRISCH AUF! have concluded a two-year contract.
Read also: Rumor: Damgaard to Göppingen?
Read also: Damgaard leaves BSV after this season