Damgaard leaves BSV after this season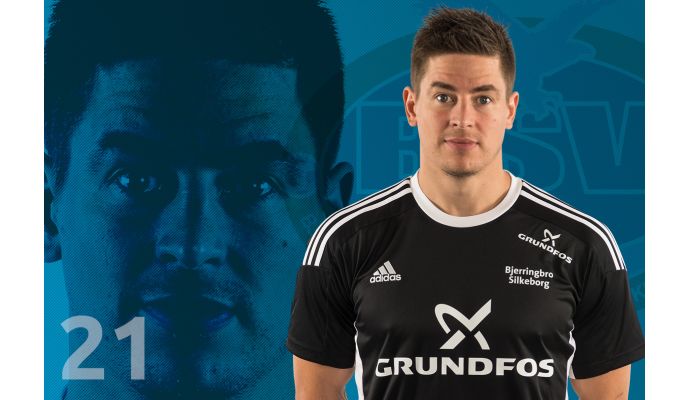 Photo: bjerringbro-silkeborg.dk
Written by: Rasmus Boysen
The 30-year-old Danish playmaker, Allan Damgaard, leaves the Danish champions Bjerringbro-Silkeborg after this season. The former HSV Hamburg player continues his career in a foreign still unknown club.
Press release from Bjerringbro-Silkeborg:
Bjerringbro-Silkeborg must the next season do without Allan Damgaard. Last winter he came to Bjerringbro-Silkeborg after just six months in HSV Hamburg, when his club went bankrupt. Now Damgaard wants a new foreign adventure, who from next season again will pursue his childhood dream.
"It has always been a childhood dream to play abroad. We started the chapter when we moved to Hamburg, but we were never allowed to complete. The adventure still burns in me, so I really want to go abroad again. It is simply a childhood dream, I want to fulfill before my career is over. It is not a rejection of Bjerringbro-Silkeborg, but an option of a new foreign adventure. I could not see myself move to another Danish club, as I believe that I play in the best club of Denmark, but I have a personal dream abroad, I would like to pursue," says Allan Damgaard.
Will win more titles
He is very happy that he chose Bjerringbro-Silkeborg as his new club after the bankruptcy in Northern Germany. His goal in Denmark was to win the Danish championship, and it succeeded already after just six months in the Central Jutland club. Now Damgaard hopes for several titles in his last months as Bjerringbro-Silkeborg player and he promises to give 100 percent in the hunt.
"I am glad that I, along with Bjerringbro-Silkeborg solve the tedious situation I was in after the bankruptcy in Hamburg. I would like to go to Bjerringbro-Silkeborg, because the club has a very good reputation. It is a club which is on top of things behind, giving us players the opportunity to concentrate on playing handball."
"I switched to Bjerringbro-Silkeborg to become Danish champion. It was the Danish club, which I thought I had the biggest chance to win the championship with. The goal we achieved in the summer, and now I will do everything that I can to win a few more titles before I leave. We are part a of Final4 where we of course go after the title, and I hope also that we can defend the DM-title when the season is over. We can clearly remember how much fun it was to win the final, and we would like to try again," says the 30-year-old back court player.
Bredsdorff on Damgaard: Large gain
Bjerringbro-Silkeborg coach Peter Bredsdorff-Larsen had followed Allan Damgaard long before the club managed to retrieve the back court player to the club. Early when he heard about the economic problems he contacted Allan Damgaard and his agent to inquire about the possibility of getting Damgaard to Bjerringbro-Silkeborg. They succeeded, and cooperation has been highly successful.
"I knew that Allan Damgaard would fit well into our team. He is a true warrior with a tremendous commitment and will to win."
"Allan has been the great benefit that I had hoped for. We had a short time to integrate Allan in the spring, but already in the spring Allan was an important part of that we ended the season on a very high level and won the championship. This season, Allan then given the opportunity to prove even more forward. He has become a very important part of our defending and our counter attacks and from an unfamiliar position of right-back Allan reached a very high level, where he scores goals from many different positions and actually is league top scorer, if you drag penalty from," praises Peter Bredsdorff-Larsen who hope that Damgaard gets success in the future but welcomes the fact that he benefits from the players qualities for the rest of the season.
"We have always been aware that Allan wanted to go abroad, and we have been willing to allow Allan to pursue that dream. We are pleased that we managed to get Allan home and we are happy to have him for the rest of the season."