Nenadic brothers reunited in Berlin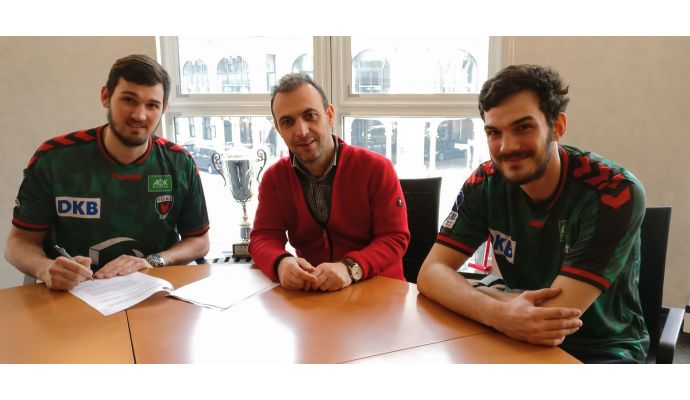 Photo: fuechse.berlin
Written by: Rasmus Boysen
The 27-year-old Serbian free agent left back, Draško Nenadić, has signed a contract with Füchse Berlin with immediate effect.
The Nenadic-brother are reunited in Füchse Berlin with immediate effect. The youngest brother, Draško, has signed a contract for the rest of the season with the club from the German capital.
"We have to give our national players, for example Paul Drux and Steffen Fäth, active breaks. The long injury of Drago Vuković and Fabian Wiede are dangerous for our remaining players. We are now able to prevent further injuries by the use of Draško," says Füchse Berlin CEO Bob Hanning.
Draško Nenadić is enthusiastic about his contract: "It is simply outstanding. I have never played with my brother, but right now in this top club. On Thursday, I am already in the squad against Erlangen, I am so happy and will give everything to justify the confidence. "
In the early 2016 the club of Draško Nenadić, HSV Handball, went bankrupt. Just a few weeks before the former Serbian national player Draško Nenadić had a surgery for a serious knee injury. Ever since the unlucky Serbian national player has been a free agent.
Fact box:
Name: Draško Nenadić
Birthday: 15.02.1990
Position: Left back
Height: 202 cm
Weight: 91 kg
Nationality: Serbian
Clubs:
-2010: RK Crvena Zvezda (RK Red Star), Serbia
2010-2012: BM Granollers, Spain
2012-2013: BM Guadalajara, Spain
2013-2015: SG Flensburg-Handewitt, Germany
2015-January 2016: HSV Handball, Germany
January 2017: Fücshe Berlin, Germany