Melsungen signs talented goalkeeper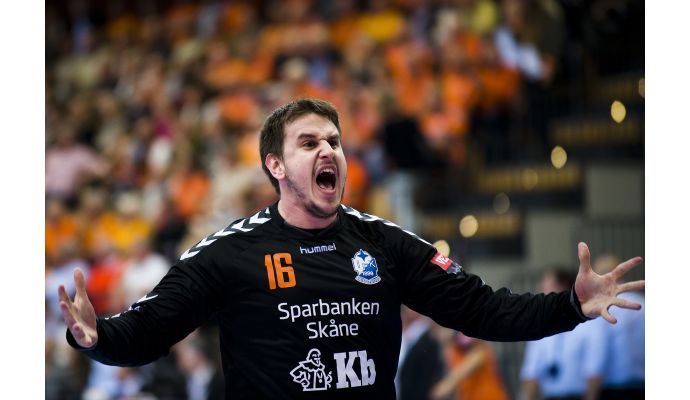 Photo: ifkkristianstad.se
Written by: Rasmus Boysen
The 23-year-old Montenegrin goalkeeper of the Swedish champions and Champions League participants IFK Kristianstad, Nebojsa Simic, has signed a 3-year contract with the ambitious German Bundesliga club MT Melsungen from next season to the summer of 2020.
After signing Tobias Reichmann, Finn Lemke and Lasse Mikkelsen, Nebojsa Simic is the 4th signing of the ambitious Germans from next season. He replaces both the Dane René Villadsen (has signed a contract with Århus Håndbold) and the Serb Svetislav Verkic (future uncertain) to make a duo with the Swedish goalkeeper Johan Sjöstrand, who has extended his contract to the summer of 2020.
"In 2015, I became aware of Nebojsa during our training camp in Sweden when we played against Kristianstad. Since then, we have watched him closely and are now convinced that together with Johan Sjöstrand he will form an ideal duo. While Johan is a bit quieter, Nebojsa's life is alive with his emotions. He is a little like our former goalkeeper Mikael Appelgren, has a good position game, and sometimes a somewhat unconventional style to ward off balls. Although he is only 23 years old, he already has an enormous experience for this age.," says MT Melsungen head coach Michael Roth, explaining the merits of the Montenegrin.
Nebojsa Simic choise among others MT Melsungen to become a part of the Bundesliga:
"I love the Bundesliga. Here the best handball is played at all and my dream was always to play here myself. The MT Melsungen is a very well-run club, always striving to develop further. I am looking forward to the new environment, the club, and the fact that I am able to work with the people there for at least the next three years," the 23-year-old is already looking forward to joining his future club.
Fact box:
Name: Nebojsa Simic
Date of birth: 19.01.1993
Nationality: Montenegrin
Height: 194 cm
Weight: 116 kg
Caps: 33 for Montenegro
Clubs
RK Sedmerac (MNE): 2004-2008
RK Mornar (MNE): 2008 - 2010
RK Lovcen (MNE): 2010 - 2012
H43 Lund (SWE): 2012 - 2013
HK Malmö (SWE): 2013 - 2015
IFK Kristianstad (SWE): 2015 - 2017