Skjern has wing duo in place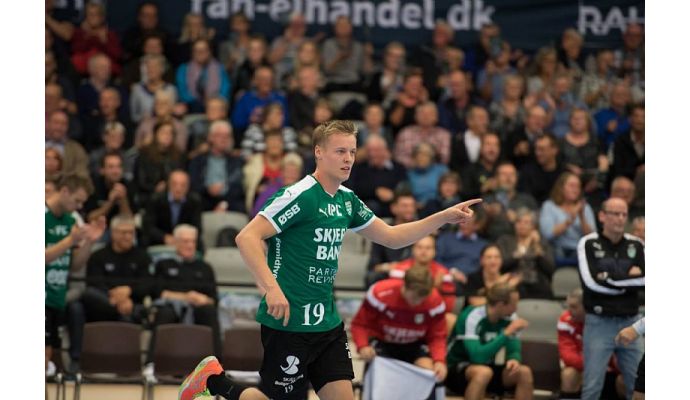 Photo: skjernhaandbold.dk
Written by: Rasmus Boysen
The talented Danish left wing of Skjern Håndbold, Bjarke Christensen, has extended his contract with 2 years to the summer of 2019.
The press release from Skjern Håndbold:
"The wing duo for the coming seasons are in place in Skjern.
For 11 years he has dragged the green Skjern-jersey over his head - and so it remains also in the next two seasons.
Bjarke Christensen has put his signature on a two-year contract extension, so that the agreement is now valid until 30 June, 2019.
In the 2008-2009 season the left wing was named "Talent of the Year" in the club - same season when Anders Eggert eventually appeared in the West Jutland club.
Next year represents the combined duo on the left wing. A new teammate and mentor, who Skjern's number 19 is looking forward to work with.
"I want to win medals, playing international matches and lift my game further - and in order to that Skjern is still the right match for me. In Anders Eggert I get a teacher of the highest class, which I can lean on. I am sure he can help me on the way to take the final step, so I stand prepared to take over," says Bjarke Christensen and continues:
"There is a risk of less playing time, but it outweighs all the experience that Anders Eggert can pass on to my game," says Bjarke Christensen.
Management satisfaction
Chairman of Skjern, Carsten Thygesen, welcomes the extension of the contract with the 24-year-old left wing.
"Besides Bjarke Christensen's sporting qualities, we are pleased to extend the agreement because he is a local boy with the Skjern DNA in the blood," says Carsten Thygesen."
Read also: Anders Eggert to Skjern Håndbold.
Read also: Eggert gets player to leave Skjern