Markussen in BSV to 2020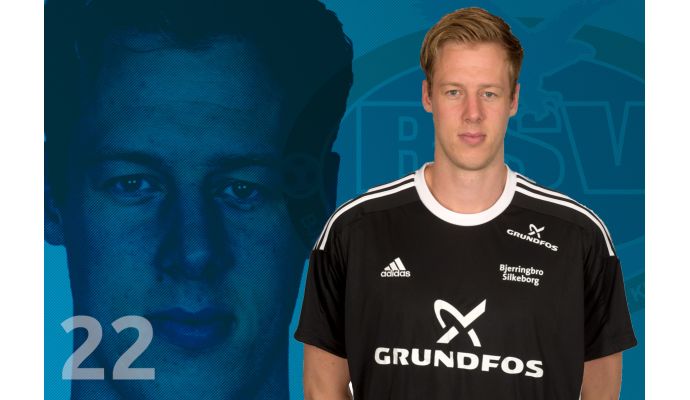 Photo: bjerringbro-silkeborg.dk
Written by: Rasmus Boysen
The tall Danish left back Nikolaj Markussen has extended his contract with the Danish champions Bjerringbro-Silkeborg with 3 years to the summer of 2020.
Press release from the Danish champions and Champions League participants, Bjerringbro-Silkeborg:
"Currently Nikolaj Markussen of Bjerringbro-Silkeborg peaks and now the back court player has chosen to extend the contract with the Danish champions. In the VELUX EHF Champions League, 888Ligaen and later in the Cup quarterfinals Nikolaj Markussen delivered on a high level, and until the year 2020 Bjerringbro-Silkeborg can enjoy the great shooters skills. Markussen is happy to stay.
"Not just handball wise but also all around the club makes Bjerringbro-Silkeborg a really nice match for me and my family. I feel really good in Bjerringbro-Silkeborg both on the pitch but not least outside with the people around the club, sponsors and so on. Everything are in order and there are a great calm around Bjerringbro-Silkeborg and it's hard to catch up with even for a big foreign club," says Nikolaj Markussen.
The 28-year-old left-back won European Championship gold for the Danish national team in 2012, and he has previously appeared for the Spanish club Atletico Madrid. Markussen changed in 2015 to Bjerringbro-Silkeborg from Skjern, and since his handball game has only moved in a positive direction.
"I feel good, and when I do it so it works also on the field. I have found into a good rhythm with the rest of the team. It is a homogeneous team and a nice place to be."
"When I came to Bjerringbro-Silkeborg, I had a plan that I was going back to the level that I knew I had. It took just the first six months, but now it's going well, and I hope that I can build on that," says the 211-centimeter tall left back, who in the summer won his first Danish championship and hope to win more titles in the coming years in Bjerringbro-Silkeborg.
"Now we got opened the trophy cabinet in the summer, and then it is just to fill as much in there as possible. I hope that Bjerringbro-Silkeborg can consolidate its place in the top of Danish handball."
Nikolaj Markussen has got a really key role in Bjerringbro-Silkeborg's team, and with the Danish champions are the joy great to have extended the contract with Nikolaj Markussen. Head coach Peter Bredsdorff-Larsen believes that Nikolaj Markussen also in the coming years will be a great profile for Bjerringbro-Silkeborg.
"It is very good news for us. Nikolaj Markussen is an international top player, who over a long period have played at a really high level, and particularly in the decisive battles have made a difference for Bjerringbro-Silkeborg."
"Nikolaj've always had fantastic conditions because he in attack can do both breakthroughs and shots from the distance. Nikolaj Markussen and Bjerringbro-Silkeborg has proven to be a good match, and Nikolaj is a guarantee that we will see Bjerringbro-Silkeborg maintain its position at the top of Danish handball. He is also a profile that can help us to compete internationally," says Bredsdorff-Larsen.