Rumor: Simon Jeppsson to Flensburg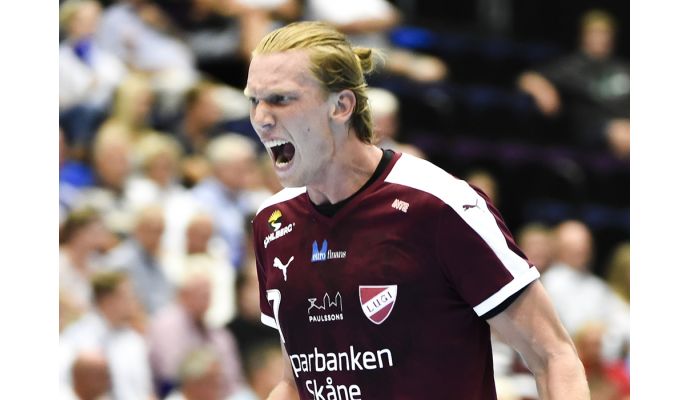 Photo: handbollsligan.se
Written by: Rasmus Boysen
The Swedish left wing of GWD Minden, Charlie Sjöstrand, confirms in the Swedish handball podcast "Avkast", that the Swedish shooting star Simon Jeppsson was at the Bundesliga game in Flensburg between SG Flensburg-Handewitt and GWD Minden.
We have previously written about the talented Swedish left back, Simon Jeppsson, who several European top clubs are chasing. The 21-year-old left back of the Swedish club LUGI has taken the Swedish league by storm in this season, and is already a part of the Swedish national team.
The Swedish head coach of SG Flensburg-Handewitt, Ljubomir Vranjes, allegedly has an eye for the Swedish talent, who therefore has been visiting the club to look at the conditions.
The agent of Simon Jepsson, Arnar Freyr Theodórson, has previosly confirmed the huge interest to the Swedish newspaper, Expressen:
"Several clubs have registered their interest. They know that Simon can become a world star. I have received requests from virtually all countries where handball is huge."
The Icelandic agent reveals no clubs but makes no secret that Germany is a hot track when Jeppsson's contract with LUGI expires after this season:
"As I see it, he has all the qualifications required to succeed in the Bundesliga."
Simon Jeppsson, who after 57 goals in 8 matches in the domestic Swedish league has been selected to the Swedish national team, know he is a sougt after player:
"Me and my agent have started to look on the possibilities. For me it is important that I am going to a team with a winning mentality. Of course I want to play in the best league in the world. But that is a giant step."
Ljubomir Vranjes has revealed, that the squad of SG Flensburg-Handewitt is cut fro 18 to 15 players next season.
The following players has a contract that expires in SG Flensburg-Handewitt at the end of the season:
Mattias Andersson (38). Swedish goalkeeper.
Lukas Blohme (22). German right wing.
Anders Eggert (34). Danish left wing. (has signed a contract with Skjern Håndbold, Denmark)
Petar Djordic (26). Serbian left back.
Johan Jakobsson (29). Swedish right back. (has signed a contract with IK Sävehof, Sweden)
Jacob Heinl (30). German line player.
Bogdan Radivojevic (23). Serbian right wing.
Jim Gottfridsson (24). Swedish back court player.