
00:19 08-September-2017
Christiansen continues in Magdeburg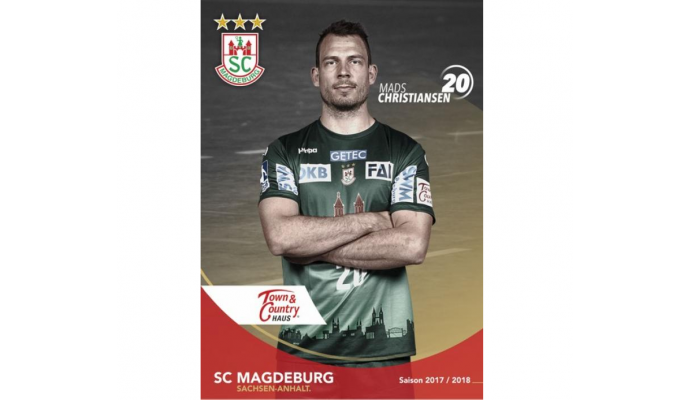 Photo: scm-handball.de
Written by: Rasmus Boysen
The 31-year-old Danish right back Mads Christiansen has extended his contract with SC Magdeburg to the summer of 2019.
Press release from SC Magdeburg:
Olympian winner Mads Christiansen keeps loyal to SCM
The 31-year-old Danish back court player Mads Christiansen has extended his contract with SC Magdeburg until 30.06.2019. The gold medal winner of Rio changed from the Danish team Bjerringbro-Silkeborg to the Elbe in 2016 and form with Nemanja Zelenovic the duo in the right back position a at SC Magdeburg.
Head coach of SC Magdeburg, Bennet Wiegert:
"I am very happy that Mads will stay another year in Magdeburg. With his playing style, he has contributed both to the attack and defend to the stabilization of our playing system and to develop into a supporting pillar for us. His experience and routine do us well. With this extension of the contract, we will continue to provide continuity in our roster for the coming years."
Mads Christiansen:
"I am very satisfied that I could extend my contract with SCM. If I look at the development of our team last season, I am looking forward to the future with this team. The SCM is an outstanding club with incredible fans and that gives me the motivation to work harder every day for our success."
Mads Christiansen began his senior career in the Danish club GOG before he in 2006 moved to the League rivals TMS Ringsted. In 2008 he signed a 3-year contract with AaB Håndbold (now Aalborg Håndbold, ed.). After Aalborg he joined the Danish League rivals TTH Holstebro before signing a contract with Bjerringbro-Silkeborg in 2013. In 2016 he moved abroad to his current club SC Magdeburg.
Mads Christiansen was from 2007 until his decision to retire in 2016 an integral part of the Danish national team. He played 117 matches, scored 257 goals and participated in several Championship - including the European Championship 2012 in Serbia and the Olympics 2016 in Rio, where Denmark won gold.