Officially: Ivanisevic stays in Skjern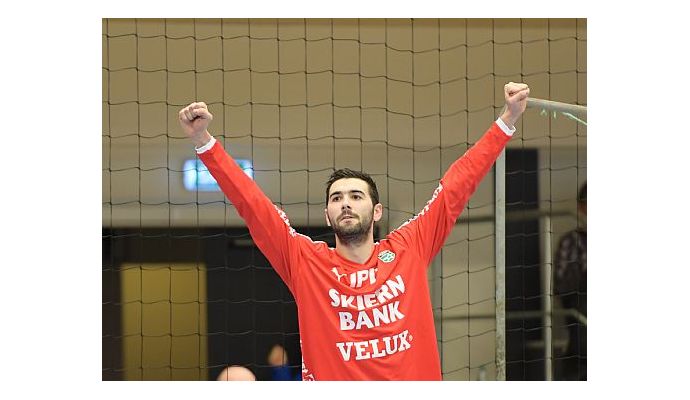 Photo: skjernhaandbold.dk
Written by: Rasmus Boysen
The 26-year-old Serbian goakeeper Tibor Ivanisevic has extended his contract with Skjern Håndbold with 2 years to the summer of 2019.
The Chairman of the Danish club Skjern Håndbold, Carsten Thygesen, stated in the beginning of March, that the 26-year-old Serbian goalkeeper, Tibor Ivanisevic, who came to Skjern from the Hungarian club Gyöngyösi KK on a 6 months contract in January, does not continue in the club after his contract expires at the end of this season
But now the two parties nevertheless have made an agreement. Tibor Ivanisevic stays in the Danish top club for 2 more years to the summer of 2019.
"There is no doubt that we took a big chance in the winter break by adding an extra goalkeeper to the squad. But here a few months later we can with great pleasure note that it paid - even to a degree we did not dare dream about. Tibor Ivanisevic has demonstrated excellence in goal, and we are therefore very pleased to sign a new contract," says Carsten Thygesen, Chairman of Skjern.
Tibor Ivanisevic debuted for Skjern at the Danis Cup Final4-tournament in early February. Here he marked out with a total of 39 saves in the semifinal and final, and he was also named the Finals Cup fighter.
Skjern Håndbold now has 3 goalkeepers under contract from next season. The current Danish goalkeeper, Søren Pedersen, who has extended his contract with 2 years to the summer of 2019 (read more here), the current Danish goalkeeper of Århus Håndbold, Emil Nielsen, who has signed a 3-year contract to the summer of 2020 (read more here) and now also Tibor Ivanisevic.
Skjern Håndbold is at the moment placed 4th in the Danish League.