Polish top club keeps duo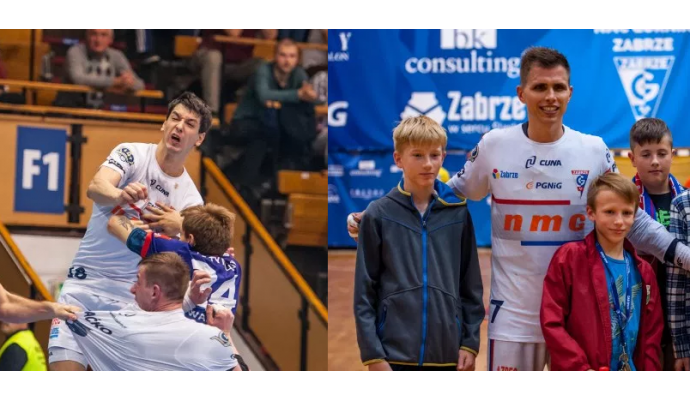 Photo: http://handballzabrze.pl
Written by: Rasmus Boysen
The Polish top club Gornik Zabrze has extended the contracts with Alexander Tatarintsev and Bartłomiej Tomczak.
The Polish club Gornik Zabrze, who is placed 2nd in group A of the Polish PGNiG Superliga with 9 wins in 10 matches, has extended the contracts with 2 important players, the club states in a press release.
The 27-year-old Russian left back Alexander Tatarintsev, has extended his contract to the summer of 2020. The 208 cm tall left back came for the first time to Gornik Zabrze in 2015. In the 2016/2017 season he played for half a year at the Swedish champion IFK Kristianstad, but he returned halfway through the season to Zabrze. His former contract expired at the end of this season, but after talks with the management team he will play in Gornik Zabrze for another two seasons.
"He is a very important player of the back court line with a strong long-range shot," comments Bogdan Kmiecik, the president of Gornik Zabrze in a press release. "We are pleased with his continued development and the further cooperation," he adds.
Besides Gornik Zabrze and IFK Kristianstad the tall Russian has also played in the Spanish top club Ademar Leon.


The Fantasy Game of the Women's Handball World Championship 2017. At least 200 Euro in prizes! Click here to read more.

Furthermore, the 32-year-old experienced Polish left wing, Bartłomiej Tomczak, has also extended the contract with Gornik Zabrze until the summer of 2020.
"Bartek is a very important person in the team, which contributed to the selection of him as a captain. I think he feels good in Zabrze, and thus represents our club for a long time," says Bogdan Kmiecik, the president of Gornik Zabrze.
Bartłomiej Tomczak began his career in the Polish club from Ostrovia Ostrów Wielkopolski. Furthermore, he has played for the Polish clubs Zagłębie Lubin and Vive Kielce. He has played in his current club Gornik Zabrze since in 2013.