
08:20 13-September-2017
Frimmel joins Kadetten Schaffhausen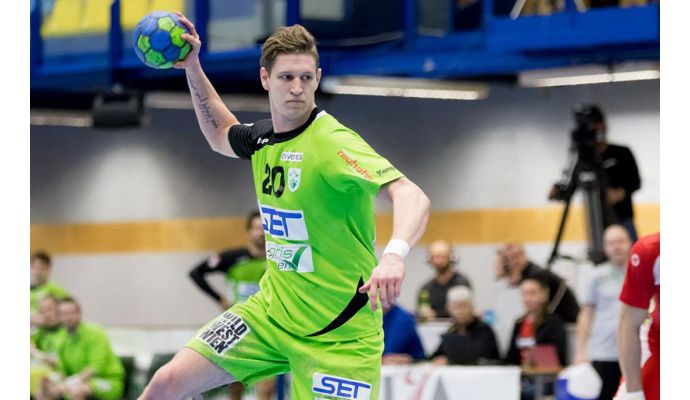 Photo: http://kadettensh.ch/
Written by: Rasmus Boysen
The Swiss champions Kadetten Schaffhausen has signed a 3-year contract with the Austrian national player Sebastian Frimmel.
Press release from Kadetten Schaffhausen:
Kadetten Schaffhausen are looking forward to having a strong left wing player with Sebastian Frimmel for the next season.
The 190 cm tall and 89 kg heavy Sebastian "Seppo" Frimmel has signed a contract with the Kadetten Schaffhausen for three years from the summer of 2018. The Viennese born on 18.12.1995 is currently under contract with the SG INSIGNIS Handball WESTWIEN, where he started his active professional career already in 2013. Before that he played in various youths for Union West Vienna, where he also participated in the U 20 Championship. During his training at the Gymnasium Bad Vöslau, he finished third in the World Cup. In the 2014/15 season, Frimmel was named "Newcomer of the Year" as HLA.
With the national youth team of the Austrian handball team, Sebastian Frimmel won the 6th place in the Youth European Championships in 2012 and 2014 respectively. The top defensive champion was able to prove his talent in the A national team. His debut in the A national team as a defender on half-position or in the inner block and as a good finisher in attack, Frimmel gave on 4 March 2014 against Germany. Frimmel scored 54 goals in his 28 missions so far.
Sebastian Frimmel says: "It has always been my dream to go abroad and then to such a great club as Schaffhausen! This is a great step for me and I will still use the time in Austria to get ready to go to Switzerland! I'm looking forward to the next few years with the cadets and the new challenges that await them!"
President Giorgio Behr is very pleased with the new commitment: "Sebastian Frimmel comes from a handball family - his enthusiasm and enthusiasm, as well as his enthusiasm which are an exception to the strengths of a defensive player, also fit into our team. "
Teammanager David Graubner comments:" It is important for Kadetten that the change of generations on the left wing can be completed so seamlessly. I am convinced that with Sebastian we could commit another guarantee for future success. "
"I am very happy about our new commitment. Sebastian is a strong wing, who can also play in the defense in many positions, which gives us a lot of opportunities," adds head coach Peter Kukucka.