Alonso stays in Tirol to 2020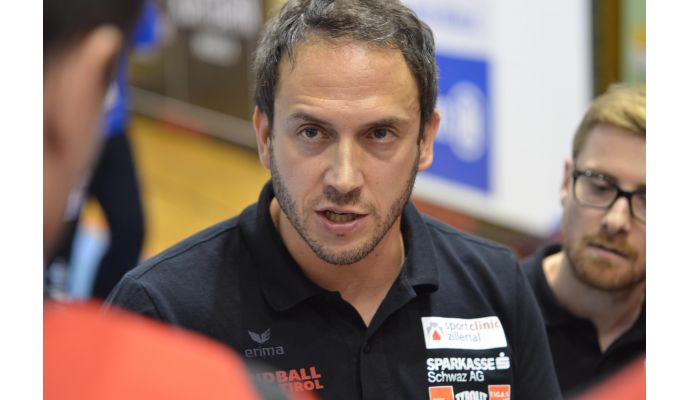 Photo: handball-tirol.at
Written by: Rasmus Boysen
Raul Alonso stays in Handball Tirol to the summer of 2020.
Early in the running season the Austrian club Sparkasse Schwaz Handball Tirol has signed a new 3-year contract with their Spanish head coach Raúl Alonso to the summer of 2020. The Spaniard came to Austria from THW Kiel in the summer of 2015.
"I feel very well in Tyrol. I came here in 2015, because I was convinced of the project of Handball Tirol. And I would like to help to develop and co-develop this project, in which I am responsible for the performance area. That took time - so it was clear for the club and myself to take the step with the extension, " emphasizes Raúl Alonso, who has brought Sparkasse Schwaz Handball Tirol closer to the national elite in the second year of his job, to the website of the club. After eight games the club is in second place.
"In addition to the professional conditions, cooperation with those responsible is also crucial for the current development. There is a strong level of confidence here. Everyone pulls together to build a successful handball club in Tyrol. I am very anxious to continue this vision."
Sport coordinator of Handball Tirol, Thomas Lintner, is delighted of the early extension of the contract:
"We are creating consistency on the trainer's position. Raúl has already developed a lot of things in the right direction, especially in the field of squad planning. We have transformed financial resources into the junior sector and are now achieving better results in the HLA with less budgetary expenses than the start of Handball Tirol. Together with Raúl, we are working to keep the right people, who will take the next step with us."
Fact box:
Name: Raul Alonso
Date of birth: 09.01.1979
Nationality: Spanish
Position: Head coach (previously right wing)
Clubs as a player:
1985-1995: TEKA Santander, Spain
1995-1999: TV Grossauheim, Germany
1999-2007: TUSPO Obernburg
Clubs as a coach:
2006–2008 TUSPO Obernburg, Germany
2008–2009 Rhein-Main Bienen, Germany
2010–2015 Youth coach of THW Kiel, Germany
2015– Handball Tirol, Austria