Mačkovšek extends with Celje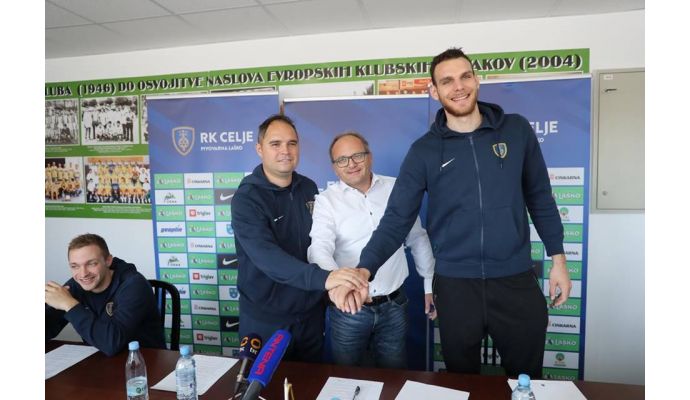 Photo: rk-celje.si
Written by: Rasmus Boysen
The 25-year-old Slovenian national player Borut Mačkovšek has extended his contract with RK Celje to the summer of 2020.
The Slovenian champions RK Celje Pivovarna Laško today extended the cooperation with the Slovenian national player, Borut Mačkovšek, to the summer of 2020.
The 25-year-old Slovenian left back has tried his luck abroad several times in clubs as TSV Hannover-Burgdorf, Dinamo Minsk, Montpellier HB and ThSV Eisenach, but every time he has returned to Slovenia and RK Celje. Now he has decided to stay long-term in the Slovenian club.
At the press conference today before the Champions League match against the Belarusian champions Meshkov Brest, the extension was announced, and Borut Mačkovšek stated the following: "In Celje, I feel better, as well as for me and my family. We feel great here, we have friends, and the working conditions are top-notch. As the next reason for the extension, the team is a really great team. We fantastically understand each other, we work well on the court, we have an excellent coach with whom I have confidence and this is also a very important factor in this decision. With everyone in the club, I look forward to cooperating in the future. Here in Celje, I always felt desirable, people love me, so I'm even more happy to stay."
The head coach of the club, Branko Tamše, is happy with the extension: "I am also very glad that Borut remains a part of the Celje family and that after the summer signings with Kodrin, Marguc and Razgor, this is followed by the others whose contracts expires, such as Lesjak and Mlakar. Borut is almost a "big fish" for us, and his remnant is very important for us. I hope that in the next period he will not be caught by injuries, so that in the attack he can show everything that he can give handball. In defense, in my opinion, during this period, he developed to the point that he is one of the main players, not only in Celje, but also at the national team. With the approach to work hard that he shows, I am sure he will take full advantage of his potential even in the attack, where we all know that he is very good. He is only 25 years old and he has a very bright career in front of him."