GWD Minden signs Cederholm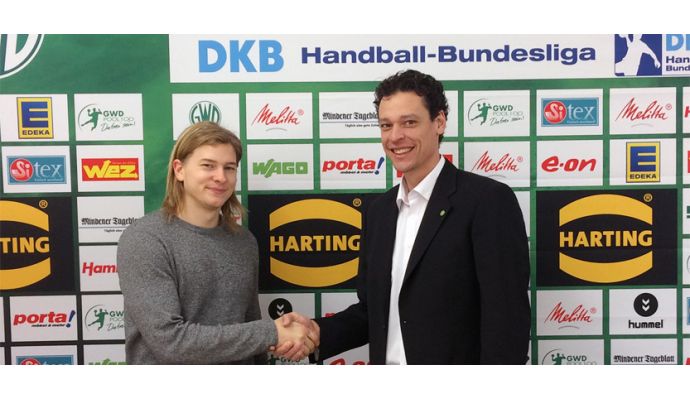 Photo: GWD-minden.de
Written by: Rasmus Boysen
The Swedish national player of the French club FENIX Toulouse, Andreas Cederholm, has signed a 2-year contract with the German Bundesliga club GWD Minden from next season.
Press release from GWD Minden:
Andreas Cederholm is the new man in the right back position of GWD Minden. The 26-year-old comes from the French League club FENIX Toulouse and stays for 2 years at Minden.
The Swede has grown up at HK Guldkroken and changed to IFK Skövde in 2007. After six years he went to the Champions League participant IFK Kristianstad, with which he twice became Swedish champion. In the summer of 2016 Cederholm accepted an offer from Toulouse. The 1.86 man has played 34 caps for Sweden.
"We are very pleased that Andreas would like to join us and thank Fenix Toulouse, who made the change possible through a premature termination of the contract. Andreas fully complies with the player profile, which we have searched as a supplement to Christoffer Rambo on the right back. He is a breakthrough strong handball player who is looking for body contact and can use his maneuverability to break gaps into any opponent's defense. He can also defend aggressively and push the ball forward in the second wave," says GWD Minden Sports Director Frank von Behren, looking forward to his second new commitment.
Cederholm took medical examinations in Minden a few days ago and signed his contract. "I've heard a lot of good things about GWD Minden and it was always my goal to play in the Bundesliga. I believe that this club can bring my game to a higher level," explains the Swede during his first visit in Minden.
Cederholm joins GWD Minden as the successor of Moritz Schäpsmeier, whose contract expires in the summer. Captain Schäpsmeier however, will continue to be bound to the club. The own grown player has gone through all the youth teams with the Dankersern and is with 307 Bundesliga games by now record holder of the club.
The Polish national player and right back of the Polish League club Azoty Pulawy, Rafał Przybylski, replaces the Swedish right back Andreas Cederholm in the French club FENIX Toulouse after this season (read more here).