Bregenz lends Celje-player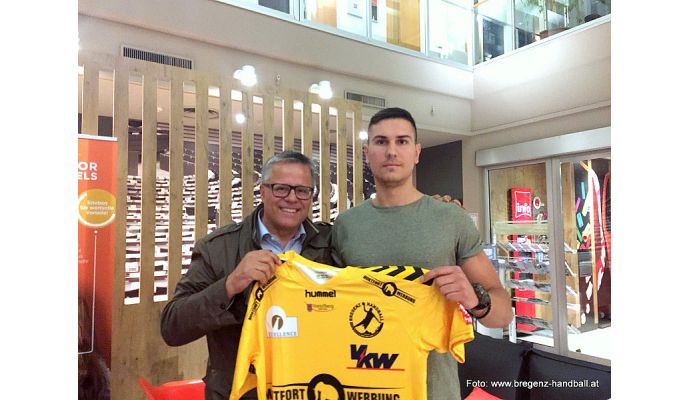 Photo: bregenz-handball.at
Written by: Rasmus Boysen
The Austrian top club Bregenz Handball lends the Slovenian left back Luka Kikanović from RK Celje for the next 2 years.
The 20-year-old Slovenian left back Luka Kikanović is currently on loan with the Austrian League rivals HC Linz AG and was able to convince everyone of his talent this year in the Austrian League. He scored 108 goals in the regular season and with 107 goals was the most successful scorer of the league without penalties.
President of Bregenz Handball Roland Frühstück is very enthusiastic about the new entry: "Luka is the ideal player for us, young, big, dangerous in the attack and courageous on the defensive, and after a successful year in Linz he has to take the next step. I expect a lot of him and am sure that he will give us great pleasure," he states in the press release of Bregenz Handball.
Jörg Lützelberger, who from next season is the head coach of Bregenz Handball, is also happy about the agreemenet: "Luka is a very ambitious player who has already been a top performer and main goalscorer in his first year in the HLA, bringing excellent physical fundamentals, defending already very stably and is in offensive by his goal danger from a long distance and breakthrough skills at any time able to bind a second defender. In addition, he has been learning German for several months and is therefore very well suited to our requirements profile. His personal goal setting and those of Bregenz Handball fit very well. I look forward to the cooperation."
Luka Kikanović is also looking forward to the new challenge: "The time in Linz was very important for me, but now I would like to take the next step in order to develop further again: Bregenz Handball is a great club with a high reputation. I would like to play for titles here. It is also important for me that Bregenz Handball is represented every year in the European Cup. I am 100% motivated for the new challenges and with great anticipation. I am looking forward to a successful time with the Austrian record champion. "
Luka Kikanović is an integral part of the Slovenian youth national team with whom he won gold at the Youth Olympics in Nanjing in 2014.