Taleski reinforces Löwen with immediate effect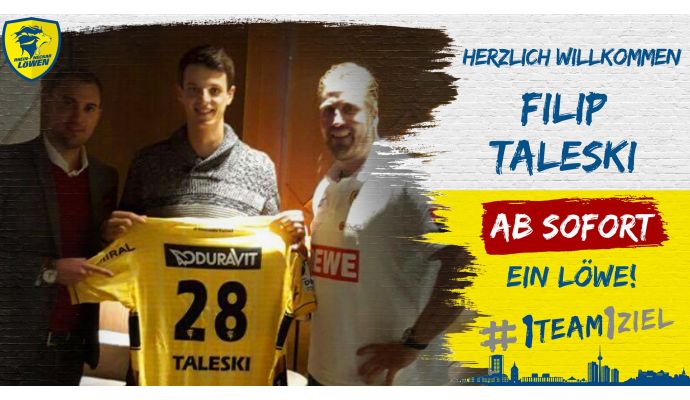 Photo: rhein-neckar-loewen.de
Written by: Rasmus Boysen
Rhein-Neckar Löwen has bought the Macedonian left back Filip Taleski from the Macedonian top club RK Metalurg with immediate effect.
The 20-year-old Macedonian shooting star of RK Metalurg Skopje had early signed a 3-year contract with the German champions Rhein-Neckar Löwen from the summer of 2018 to the summer of 2021, but now he joins the German club with immediate effect.
"We are very pleased that Filip is already able to strengthen our team in the last part of the season," says Löwen CEO Jennifer Kettemann, who is satisfied with the conclusion of the negotiations with Taleski's former club HC Metalurg Skopje. All parties involved agreed to silence about the methods of detachment.
"Filip is a young player who will need his time. We will give it to him and we will be able to take him to the Bundesliga," said Oliver Roggisch, Sporting Director of the Rhein-Neckar Löwen. Roggisch also emphasizes "that Filip should take a leading role in the near future."
The 20-year-old right-hander is currently preparing for the upcoming World Championship in France with Macedonia. Since Taleski has already played in the Champions League for Metalurg Skopje (41 goals in nine games), he is not allowed to play for the lions in the European competition in the current season, but coach Nikolaj Jacobsen is happy about his new entry. "It's a great thing to be able to use Filip in the Bundesliga. He gets enough time to acclimatise with us and we get a further alternative in the back court area with our tight schedule. "
"I always said I wanted to go to the Bundesliga. Now everything went very quickly and I thank all those who have made this change possible. I am now concentrating on the World Championship in France and am looking forward to the new challenges with the Löwen, which for me is one of the best clubs in Europe."
Fact box:
Name: Filip Taleski
Date of birth: 28.03.1996
Nationality: Macedonian
Caps: 5 (6)
Clubs:
RK Metalurg Skopje, Macedonia