Talented playmaker stays in Alingsås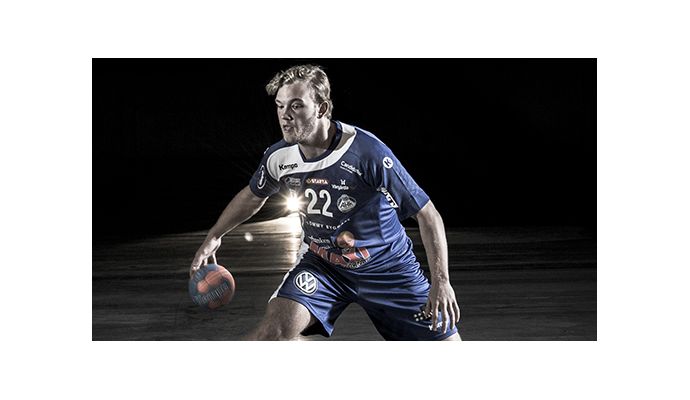 Photo: ahk.nu
Written by: Rasmus Boysen
The 18-year-old talented Swedish playmaker of the Swedish top club Alingsås HK, Tobias Sandberg, has extended his contract to the summer of 2019.
Press release from Alingsås HK
Tobias Sandberg extends to 2019
Alingsås HK's squad structure for forthcoming seasons continues to be build. Now it is clear that Tobias Sandberg, one of Sweden's most talented juniors, stays in the club to at least the summer of 2019.
The 18-year-old playmaker Tobias Sandberg has had a great development since he came to Alingsås HK last season. Together, the parties have now agreed to demolish the existing contract and instead sign a new and longer one. Sandberg will now belong to Alingsås at least until spring 2019.
The club sees the same potential in Sandberg as in Jesper Konradsson and Felix Claar, who both came to the AHK at an early age and has been a key player in the J- and U-national team in the top division and the Handball League and in Konradsson's case also played international senior championships and qualifications for Sweden.
Tobias Sandberg: "In the short time I've spent in the club, I feel I've grown tremendously as both a person and a player. I'm very happy here and feel that AHK is the right choice for me. The club clearly shows that it is willing to invest in me for at least two more seasons. Combined with the club's ambition to play in the top of Sweden as well as playing in Europe is very enticing for me and it's a trip I'm more than happy to be in. "
Per Johansson, team manager: "Tobias is one of the best junior players in Sweden. We want Tobias to be walking in the same footsteps in handball terms as Jesper Konradsson and Felix Claar has done. We believe that Tobias can develop enormously in the coming years and we feel it is important that it is AHK that helps him to take the leap. "
Mikael Franzén, coach: "Tobias Sandberg came to us as a great talent. After a first season that was a bit up and down because of injuries, he has on several occasions this season demonstrated that he wants a lot and he is a very talented handball player with a great future in handball. We want to invest in promising young players and it is for me and Karen Brødsgaard an important signing for both present and future. "