
14:38 28-September-2017
Talented goalkeeper stays in TTH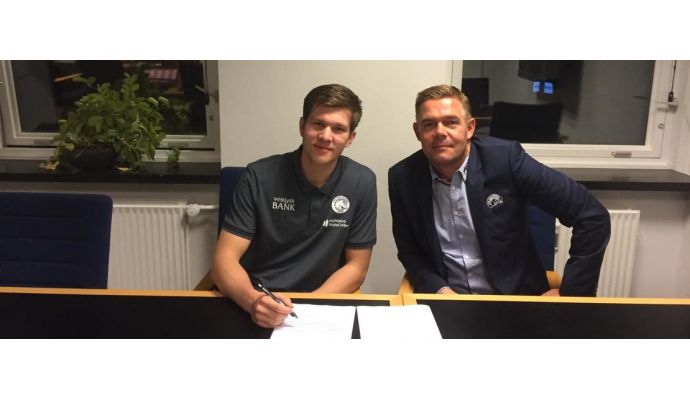 Photo: tthholstebro.dk
Written by: Rasmus Boysen
The 20-year-old Danish goalkeeper Simon Gade has extended his contract with the Danish League side TTH Holstebro with two years to the summer of 2020.
Press release of TTH Holstebro:
On a sponsor network meeting Wednesday evening at the Holstebro Media Center, the 20-year-old League goalkeeper Simon Gade was presented to sponsors as the season's first contract extension in TTH Holstebro. The partners have signed a new two-year agreement and now have paper on each other until 30 June 2020.
At TTH Holstebro, there is the pride that one of the club's own talents is now ready for a new league contract. The young keeper has been a part of talent project "Made in Holstebro" for many years during Holstebro Elitesport and the club's talent academy.
TTH head coach Patrick Westerholm is really pleased to be able to hold Simon Gade for another two seasons.
"It is great that we can hold on to a young and very talented keeper who is even comes from Holstebro. Simon has developed a lot over the past two seasons, as we also saw earlier this year on the U21 national team who won World Championship silver. He has developed a lot during the stay in Lemvig-Thyborøn Håndbold and through the many years of cooperation with goalkeeper coach Michael Bruun. Simon is the future keeper of TTH Holstebro," says Westerholm.
Simon Gade is a happy young man.
"I am very proud that TTH will extend with me, because it shows me they believe in me. I think that Holstebro has one of the best training environments in Denmark, and I look forward to wearing the TTH shirt in Gråkjær Arena. I'm looking forward to even more years in the club and the city," says Simon Gade.
The goalkeeper partner of Simon Gade in TTH Holstebro this season, the Norwegian national player Torbjørn Bergerud, has signed a contract with SG Flensburg-Handewitt from next season.