Talent stays long-term in SønderjyskE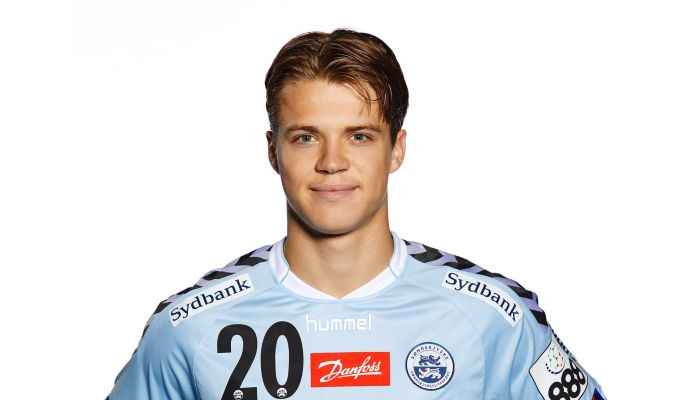 Photo: soenderjyske.dk
Written by: Rasmus Boysen
The Danish League club SønderjyskE has extended the contract with the 20-year-old Danish left back Aaron Mensing to the summer of 2020.
Press release from SønderjyskE:
Talentful Aaron Mensing continues in light blue. The 20-year-old handball comet has entered into a new two-year contract with SønderjyskE.
As late as Sunday we saw more tries on the great talent that Aaron Mensing has. Eight goals hammered as SønderjyskE top scorer in the box in the local game against TM Tønder. Head coach Kasper Christensen also rejoices that he will have the handy back court player in the coming seasons.
"Aaron is a very talented player who already has two years of experience in the league. He has a strong shot, good skills in the defensive and physics has also begun to work well. A great ally who can reach far in his handball career and we look forward to continuing his good development in light blue," says Kasper Christensen.
This summer Aaron Mensing participated at the U21 World Championship in Algeria, from where he came home with a nice silver medal. The main character looks forward to continuing his good development.
"I know I have very good opportunities to further develop myself personally here in SønderjyskE, and I am very pleased with the new contract," says Aaron Mensing.
At the same time, the local emphasizes the joy of continuing to play handball until 2020 in common terms. During the childhood years he played in Gråsten and Flensburg, and later he came to Sønderborg, where he was part of the Sønderborg Talent Academy, which has hatched several league players.
"I was born and raised here in the region and I can identify with the club. I did not doubt that SønderjyskE was the right choice," he says.
Facts Aaron Mensing
Age: 19 years (11.11.1997)
Height: 198 cm
Weight: 97 kg
Position: Left back
Number: 20
Contract: 2 years (01.07, 2018 - 30.06, 2020)
Former clubs: HK Egene Gråsten, SG Flensburg-Handewitt (youth), SINE, HF Sønderborg