
13:27 23-September-2016
Svensson beat the cancer again - comeback tonight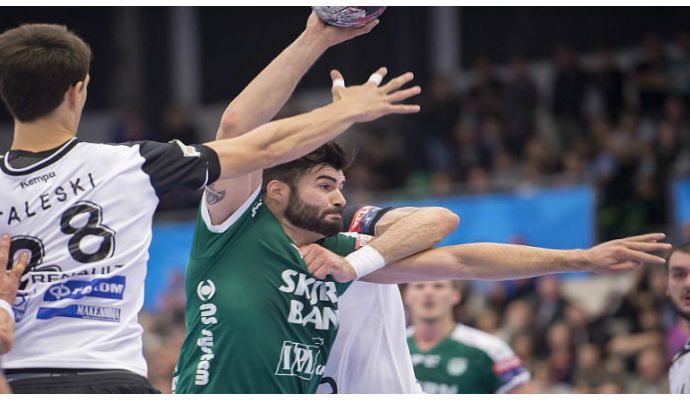 Photo: skjernhaandbold.dk
Written by: Rasmus Boysen
The former Danish national player Daniel Svensson has overcome the cancer for the second time and makes comeback tonight.
When Skjern Håndbold tonight play away against Ribe-Esbjerg HH in the domestic danish league, it is the first time in six months that the 34-year-old Danish playmaker Daniel Svensson is on the team sheet. The Danish fighter has overcome the cancer for the second time.
First time the cancer hit him was in 2013, where he played in the German Bundesliga club TuS N-Lübbecke. Second time was in March this year. He describes the feeling of standing in front of his comeback tonight as follows on his blog on www.migogaalborg.dk.
"It feels a bit unreal. It is tonight that I for the first time is included in the squad for a match, since I was diagnosed with cancer for the second time.
I have spent many hours in the spring to imagine that it would happen. That I would come back on the handball court again. When it was hard, and it all hurt both physically and mentally, I thought of the day, when I again had to play handball at the top level.
I have believed in a comeback here in September all the way. My doctors have been more skeptical, but I knew from the first time with cancer, how hard it was. But also what I can cope with my body.
I can easily tell that my body is not 100 percent, and there is still some way to go. But I think that my level is where I can help my team, whether it's a few minutes at a time.
It will be a maximum of 10 continuous minutes, I can stand. What is really is still missing is the general fitness. I am fighting really hard to get my lungs into gear again. It takes probably a little longer than I had anticipated. But I am motivated and getting the comeback is just a sub-target for me.
It's the new year, I'm aiming towards, where I prefer to be in good form and really be a profile again. Where I can have a vital importance for the team. Now I take just all the minutes I can get here in the fall.
We meet Ribe Esbjerg HH in Dokken tonight, and I'm really excited and nervous. I'm nervous in a good way, just like some of the European semi-finals and DM-finals I've tried to be a part of.
This game is for me just as important, because it is a mountaintop, I have slaved so hard to achieve, and now it is right at my fingertips.
And it's a really nice feeling. It's nice to see some video and prepare for an opponent again. Many of the things you probably take for granted as a professional athlete, but where I am now I am quite thankful that I can once again be allowed to be a part of it, and not least that I can be a part of the team again."
Fact box:
Name: Daniel Svensson
Date of birth: 03.04.1982
Nationality: Danish
Position: Playmaker/left back
Height: 190 cm
Caps: 8 games
Clubs:
-2000: IF Stadion, Denmark
2000-2003: Ajax København, Denmark
2003-2005: FCK Håndbold, Denmark
2005-2010: AaB Håndbold, Denmark
2010-2011: Toledo Balonmano, Spain
2011-2013: TuS N-Lübbecke, Germany
2013-?: Skjern Håndbold, Denmark