Slundt returns to HØJ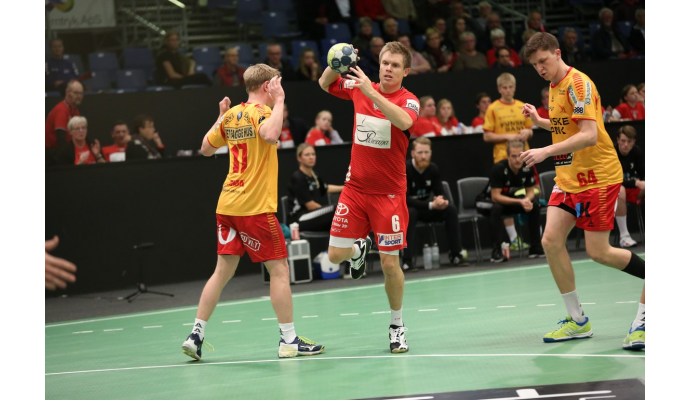 Photo: hcmidtjylland.dk
Written by: Rasmus Boysen
The former Danish national player Morten Slundt joins the Danish 2. League club HØJ with immediate efect.
Yesterday, the Danish League club HC Midtjylland announced, that the Danish allrounder Morten Slundt leaves the club (read more here).
Today, the Danish 2. League club HØJ announces, that Morten Slundt returns to the club, where he began his career.
"He has for a long time been on our wish list. He was already in our plans up to this season, where we sought a two-way player as a playmaker, but at the time, unfortunately, it could not be done. When we heard about the situation in HC Midtjylland, we contacted them, and luckily it has fallen out that all parties have been able to agree on a good and reasonable agreement," says sports director of HØJ, Henrik Kjeldsen, in a press release.
The former Danish League player and current coach of HØJ, Jesper Fredin, is looking forward to get Slundt on the squad.
"His role on the court will be the playmaker who sets the game up and also helps to get the most out of our other players. Of course, he will take some time to get to know our games and roles, but I can already see after a few workouts that it's a good choice and a good signing that we've done. We are really excited to be able to improve the squad with such a skilled player, and we are proud that Slundt has chosen us in competition with other clubs."
The plan is that Slundt in this season only will be a player, while next season he will be the playing assistant coach. He has signed a contract to the summer of 2019.
The 33-year-old Danish allrounder Morten Slundt has previously played in HØJ, GOG, Hillerød HK, Roskilde Håndbold, Nordsjælland Håndbold and Aalborg Håndbold in Denmark and Eintracht Hildesheim and HBW Ballingen in Germany. He has played 7 caps for Denmark.
HØJ is at the moment placed 12th out of 14 in the Danish 2. League with 6 points in 11 matches.