Green and Mensah out of European Qualifiers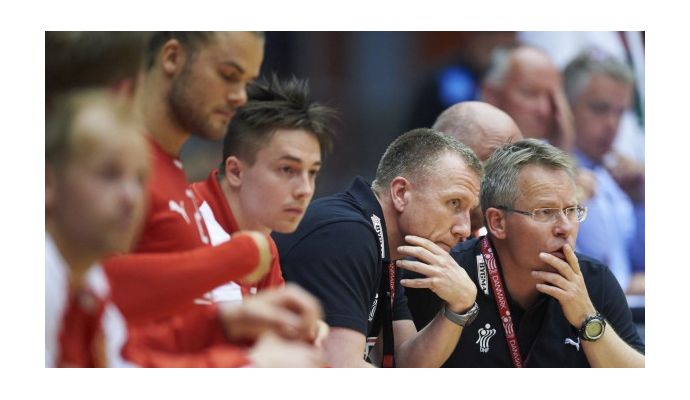 Photo: dhf.dk
Written by: Rasmus Boysen
The Danish national players Mads Mensah Larsen and Jannick Green have due to injuries backed out of the European Qualifiers.
Press release from the Danish Handball Federation, DHF:
When coach Gudmundur Gudmundsson Tuesday gathers the mens national team ahead of the two European Championship qualifying, he must do without several profiles. Besides Mads Christiansen, who has stopped his national team career, injured Casper U. Mortensen, Rene Toft and Anders Eggert takes a break and last Mads Mensah and Jannick Green apologies because of injuries.
"Unfortunately, Jannick Green has back problems, and Mads Mensah suffered a shoulder injury yesterday, so we have a difficult task ahead of us with all the injuries and apologies," says the coach Gudmundur Gudmundsson.
As a replacement has Gudmundsson picked GOG's Frederik K. Clausen up from the development squad assembled in the same period. Notice is not a substitute to goalkeeper post as Flensburg-keeper Kevin Møller is already in the A-squad.
"Frederik Clausen is a strong defender, and he can cover for Mensah, who obviously has had assignments in both ends of the court, but have had a particularly important role in the defense," Gudmundsson justifies the choice of the GOG-player.
Men's National team European Championship qualifier program:
3.11 pm. 20:30 Brondby Hallen: Denmark-Netherlands
6.11 pm. 17:10 in Valmiera, Latvia-Denmark
Goalkeepers:
Niklas Landin, THW Kiel
Kevin Møller, SG Flensburg-Handewitt
Wingers:
Lasse Svan Hansen, SG Flensburg-Handewitt
Magnus Bramming, TTH Holstebro
Magnus Landin, KIF Kolding København
Hans Lindberg, Füchse Berlin
Line players:
Henrik Toft Hansen, SG Flensburg-Handewitt
Jesper Nøddesbo, FC Barcelona
Anders Zachariassen, SGFlensburg-Handewitt
Simon Hald Jensen, Aalborg Handball
Backcourt players:
Morten Olsen, TSV Hannover-Burgdorf
Frederick K. Clausen, GOG
Mikkel Hansen, PSG
Michael Damgaard, SC Magdeburg
Henrik Møllgaard, PSG
Lasse Andersson, FC Barcelona
Kasper Søndergaard, Skjern
Niclas Kirkeløkke, GOG