Skjern continues with current duo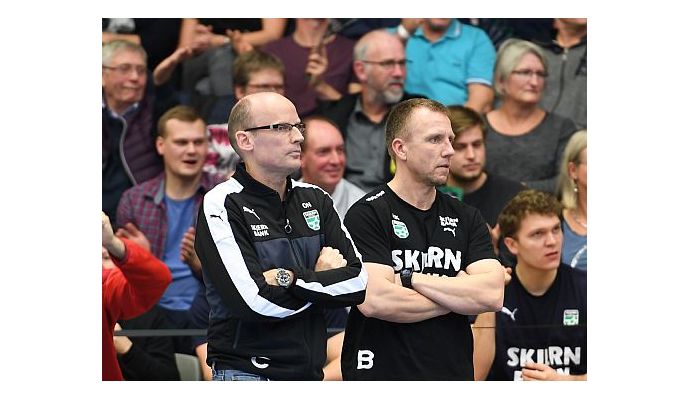 Photo: skjernhaandbold.dk
Written by: Rasmus Boysen
The current coach constellation of the Danish top club Skjern Håndbold, Ole Nørgaard and Henrik Kronborg, are also in the next two seasons in the lead of the club.
As youth national coaches of Denmark they 10 years ago led the Danish youth national team to World Championship gold medals, and now the goal is that together they will add additional precious medals to Skjern.
Ole Nørgaard and Henrik Kronborg have put their signatures on a new agreement with the Skjern Håndbold, so that the two Danish top coaches will be in charge of Skjern to the summer to 2019.
Men's National team assistant coach Henrik Kronborg signed after this summer's Olympic gold triumph with Skjern on a one year contract as a consultant, but from next season, the coach enter into a new role as assistant coach rather than a consultant.
Head coach Ole Nørgaard on the other hand has started his fifth year in Skjern.
In the first four seasons it has been for a total of six medals - including winning the Danish Cup and silver in the Danish championship.
"The results speak for themselves. During Ole Nørgaard's management has Skjern season after season been part of the absolute top," says Carsten Thygesen, Chairman of Skjern.
Ole Nørgaard and Henrik Kronborg, according to Carsten Thygesen, is the dream coaching duo for Skjern.
"We are dealing with a good and healthy blend of wit, thoroughness, leadership, dedication and experience. We do not hesitate to call it the best Danish coaching duo," says Carsten Thygesen.
The two coaches is also looking forward to continued cooperation.
"The fight for the medals, the values, the unique culture and cooperation with the players, Henrik Kronborg, the other staff, and everyone in and around Skjern are some of the obvious and attractive conditions that have made it easy for me to extend the contract," says Ole Nørgaard, while Henrik Kronborg adds:
"I look forward to continued cooperation between Ole Norgaard, the club and the squad. The prospects look promising, the team is powerful and we have every opportunity to be at the forefront, where it is fun," says Henrik Kronborg.