Rumor: Skjern interested in Swede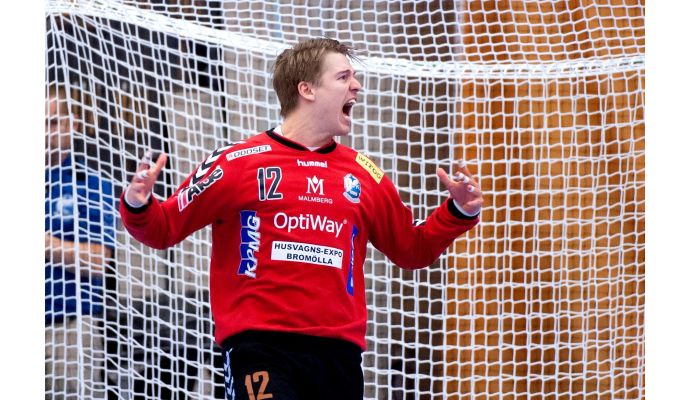 Photo: ifkkristianstad.se
Written by: Rasmus Boysen
The Danish League club Skjern Håndbold is allegedly interested in the Swedish goalkeeper Leo Larsson as replacement for Tibor Ivanisevic.
The Danish League club Skjern Håndbold is according to informations from the Swedish newspaper Kristianstadbladet interested in the Swedish goalkeeper of the Swedish champion IFK Kristianstad, Leo Larsson.
Another Swedish newspaper, Kvällsposten, has previously written that foreign clubs are interested in Leo Larsson's services next season. Now its revealed that Danish Skjern is one of the interested clubs. The Danish top club has in advance three Swedish players in Markus Olsson, Jonathan Stenbäcken and Jesper Konradsson.
"It's hard to confirm something in this situation, but it is clear that it's flattering that top clubs in Denmark are interested. But right now we have too many matches to focus on that," the 27-year-old Swedish goalkeeper says to Kristianstadsbladet.
Skjern's Serbian goalkeeper Tibor Ivanišević leaves the club to join the German Bundesliga club HSG Wetzlar after this season (read more here). Skjern Håndbold is therefore looking for a replacement.
"Many top clubs need goalkeepers next season. It's a goalkeeper's year you can say and there are rings in the water. But IFK is still on the wallet and I like it very well here. I have a good dialogue and want everything in control as soon as possible."
IFK Sports Director Jesper Larsson on Danish interest in Leo Larsson to Kristianstadsbladet:
"I've talked to Leo about this. You can say that I'm not calm, but I'm not very depressed either."
The Swedish newspaper has previously written about the interest in the Swedish line player of the Danish League club SønderjyskE, Adam Nyfjäll (read more here).