Right wing leaves SønderjyskE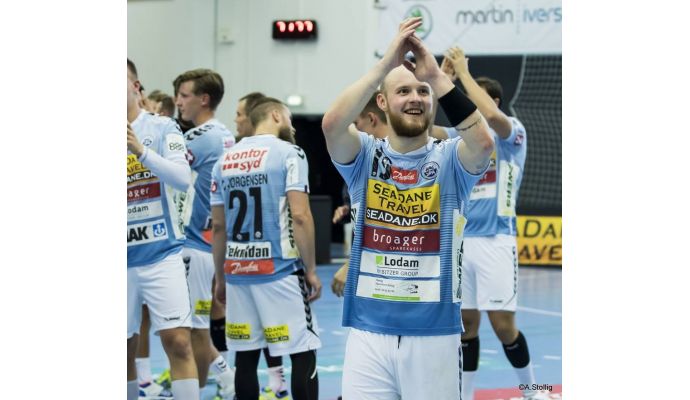 Photo: soenderjyske.dk
Written by: Rasmus Boysen
The 25-year-old Danish right wing Kenneth Bach Hansen leaves the Danish League club SønderjyskE after this season.
Press release from SønderjyskE:
The wing player Kenneth Bach Hansen is in the process of his last season in SønderjyskE Herrehåndbold.
Kenneth Bach Hansen has the club record for most played matches in SønderjyskE, but the 25-year-old wing player will like to try something new next season.
"I have been very happy and proud to play in the light blue shirt, and I feel that SønderjyskE is my club, but now something new has to happen. Therefore, I have chosen to look for other roads after this season. It's not a goodbye, but a see you later, as I hope I can return one day," says Kenneth Bach Hansen.
Sports and Sales Director Simon Hajdu Lindhardt highlights Kenneth Bach Hansen as a great personality and a player with a good mood. A player who always runs the extra meter for SønderjyskE.
"When Kenneth informed me that he wanted to try something else, in the beginning it hurt me, but I can understand that Kenneth needs to have some handball experiences elsewhere than here in SønderjyskE. He will always be more than welcome if he wants to return home," says Simon Hajdu Lindhardt.
Head coach Kasper Christensen expresses humility and pride in the collaboration with the popular wing player.
"I'm proud of being a coach for Kenneth. He is the epitome of will and strong training mentality. Kenneth is a focal point in the changing room, a leader in the training course and a type who never putting himself over the team. I think it is good for Kenneth to try another club. I see an unprecedented potential in him, and the club honored by Kenneth, gets a top professional handball player, says Kasper Christensen.
However, there are still many matches left to expand the club record for Kenneth Bach Hansen, and he looks forward to the rest of the season until the he says goodbye and hopefully see you later.
"I would like to thank everyone around the team, the volunteers, sponsors and fans who made the fantastic home-court Broager Sparekasse Skansen the best place to play in Denmark. I will give everything I have the rest of the season and try to end as well as possible with the team," says Kenneth Bach Hansen.