Kjeldgaard leaves SønderjyskE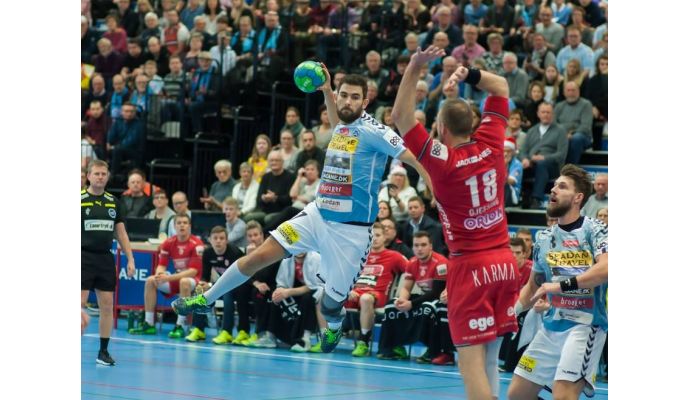 Photo: Soenderjyske.dk
Written by: Rasmus Boysen
The strong Danish playmaker Claus Kjeldgaard leaves the Danish League club SønderjyskE after 5 years in the club at the end of this season.
Press release from SønderjyskE:
The cooperation between SønderjyskE and Claus Kjeldgaard ends this summer. It is a joint resolution without great drama.
Claus Kjeldgaard came to SønderjyskE in the summer of 2013 from Swedish IFK Kristianstad, but now the 31-year-old playmaker is in the process of his fifth and last season.
"After some amazing years in the light blue shirt, me and the club have agreed that it's time to try something new. Of course it's a tough decision, but we are separated as friends and I wish the club and my teammates all the best luck in the coming seasons," says Claus Kjeldgaard.
He gets the best words on the road from SønderjyskE. Head coach Kasper Christensen has enjoyed working with a skilled and well-trained player who is also good outside the court.
"Claus is a wonderful type to have in the squad. He has great winning mentality, good social skills and is a focal point. In cooperation with Claus, however, we agree that our roads must be separated after this season. He gets the best recommendations from my side," says Kasper Christensen.
Sports and Sales Director Simon Hajdu Lindhardt highlights Kjeldgaard as a leader type that is well-liked by everyone. It will definitely not be slammed with the door, and maybe we'll see Kjeldgaard again.
"He is a fighter of God's grace and a player who takes responsibility and has the values on the right shelf. Claus makes great demands on himself and everyone else, but in the last period, injuries have made it difficult for him to come back to his previous level. If Claus with the family wants to stay in the area then we will do everything to find a place for him in the organization," says Simon Hajdu Lindhardt.
However, there are still lots of matches left this season, where Kjeldgaard looks forward to giving it all before he says goodbye to the light blue home.
"Thank you very much to all the people in and around the club as well as the amazing fans. Without you, it would never be the same to play in Broager Sparekasse Skansen. After a longer injury course, my body is now fit for fight, and I'm looking forward to giving everything I have for the club in my last season. I'm certainly hungry at more handball so time has to show what the future brings," says Kjeldgaard.
Besides Claus Kjeldgaard also the Swedish line player of SønderjyskE, Adam Nyfjäll, is rumored to leave the club after this season (read more here).