
10:26 29-September-2017
Finnish national player in Alingsås to 2020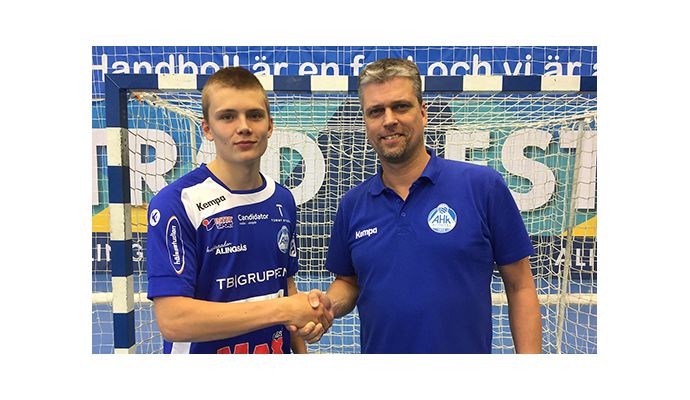 Photo: ahk.nu
Written by: Rasmus Boysen
The Swedish top side Alingsås HK has signed a contract with the Finnish national player Benjamin Helander from next season.
Press release from Alingsås HK:
National player ready for AHK
The Swedish Handball League has just begun, but Alingsås HK has already finished the first new signing for the next season. The Finnish national team enjamin Helander, who celebrated his 19th birthday yesterday, has signed a contract for the next two seasons.
It was three years since Benjamin Helander moved to Alingsås to go to the gymnasium and play with AHK. The BK46-born left-handed right wing developed well in the junior team and took place in the USM's (Youth Swedish Championship) all star team this spring.
After last season, he moved back to Finland to make the mandatory military duty but can combine it with handball in his mother club.
This spring, Helander, 19, completed his military service and returned to Alingsås HK. He has signed a contract for the 2018/19 and 2019/20 season.
"Alingsås HK is a very good handball club that has developed a lot of young players in recent years. I have had a good time in the club and look forward to coming back," he says.
Benjamin, who has played the last two A-caps for Finland, is the younger brother of Oliver who previously belonged to AHK's elite team, but this year has been Finland's second best javelin thrower.
Mikael Franzén, coach of Alingsås HK:
"Benjamin has a great attitude to the handball and loves to score goals. We are very pleased that he chose to come back to us and Swedish handball after his military service. He was one of the best players in USM last season, is a Finnish national team player and is simply a future man."
Christer Mårtensson, club manager of Alingsås HK:
"It is extremely pleasing that another great talent wants to come to AHK to develop and prepare for even greater adventures. I'm sure we'll see Benjamin in a bigger league in the future, so good he is. Until then, we look forward to enjoying his handball art and many goals in the AHK shirt."
BENJAMIN HELANDER
Born: September 28, 1998
Position: Right wing
Length: 179 cm
Weight: 73 kg
Current club: BK46, Finland
National caps: 2A, 38U (for Finland)