Elverum extends with head coach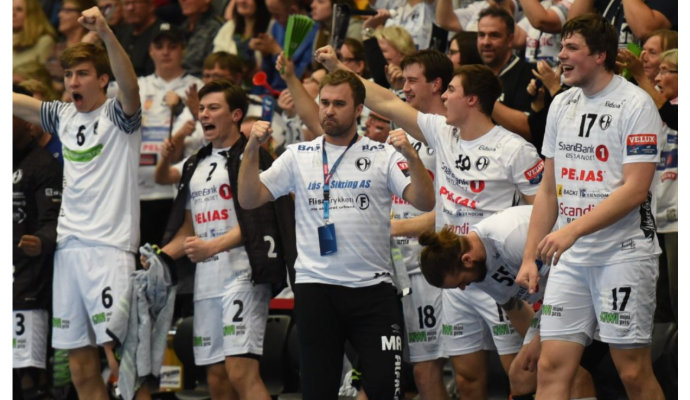 Photo: ehh.no
Written by: Rasmus Boysen
The Swedish head coach of the Norwegian champions Elverum HH, Michael Apelgren, has extended his contract to the summer of 2020.
Press release from Elverum HH:
There has been much uncertainty and talk about Michael Apelgren's further time in Elverum in the last six months - now it is decided.
Michael Apelgren has now signed a new contract with Elverum Håndball Herrer who bind our Swedish success coach to the club in the next 2 seasons.
The whole handball city will be ecstatic now, as it is ensured that our success coach in recent years will still lead the guys in black and white against new goals in the coming years. Elverum has reached new heights season for season with Michael Apelgren as a coach. With a full pot in the final game, a series of gold and not least 3 straight years in the Champions League, teams like Montpellier have tasted Apelgren's tactical grip and ability to read the game.
Apelgren took over Christian Berge and has really continued and lifted the foundation that has been put in Elverum for many years. Now it is clear that Apelgren will continue to work towards new heights and take Elverum Håndball Herrer and Elverum Handball City to new heights together with a team that constantly impresses both at home and abroad. Now Elverums men is in a short national break and is top of the group in the Champions League, and series leaders in the Norwegian League after an top battle against Drammen a few days ago.
That's why it's extra good to be allowed to share this amazing news that Apelgren loves what the handball city has to offer! It's just taking off the hat for Apelgren's choice, and not least in his place and thanking everyone who does such a thing honorable efforts around the club and allows to continue the good work made in recent years! Apelgren is clear in his choice and explains why he is in the club.
"It's very cool to work with Elverum Håndball. I have been fond of the people in and around the club, and not least I am proud of what we have managed to build together in recent years. It's fun at training. It's fun to go to the club office. I'm a much better coach than I was a year ago. It is important for me to continue the development here. I have a heart for the club that grows for every day," says the Swede with a smile.
"We are very pleased to have Apelgren. He has done a fantastic job, and proved himself a very inclusive coach. A skilled analyst and knows exactly who to press in the matches to overcome the opponents. Not only here at home, but also in the Champions League. A nice and sociable guy whose whole handball city has been happy," says Nils Kristian Myhre of the sports selection.