Zelenovic joins Göppingen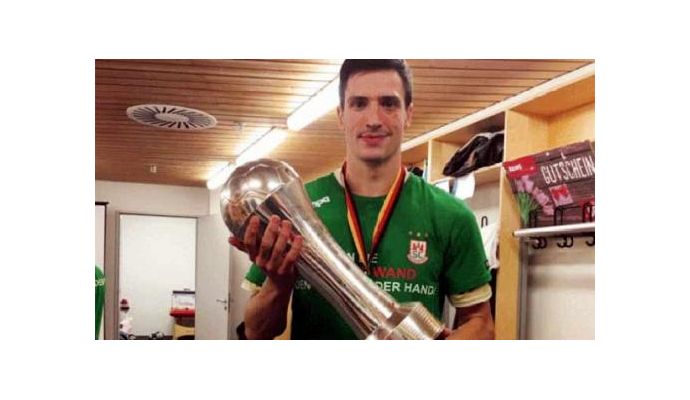 Photo: scm-handball.de
Written by: Rasmus Boysen
The Serbian national player Nemanja Zelenovic joins the German Bundesliga club FRISCH AUF! Göppingen after this season.
After the current club of Nemanja Zelenovic, SC Magdeburg, announced the signing of Albin Lagergren as a replacement for Zelenovic (read more here), the Serbian right back has now found his new club, the German Bundesliga rivals FRISCH AUF! Göppingen.
Press release from FRISCH AUF! Göppingen:
FRISCH AUF! Göppingen has announced the first signing for the upcoming season 2018/19: From league rivals SC Magdeburg the left-hander Nemanja Zelenovic moves to Göppingen. The Serbian national player has now decided to get involved in FRISCH AUF! and looking forward to the coming years at the Green-Whites. Nemanja Zelenovic has been playing for SC Magdeburg since 2015 and won the German Cup with the SCM in 2016. Nemanja Zelenovic and FRISCH AUF! have signed a two-year contract.
Nemanja Zelenovic played before his involvement with SC Magdeburg at Wisla Plock (Poland) and RK Celje (Slovenia). Since 2012, the 27-year-old right back also has played in the Serbian national team, for which he was active at the 2013 World Championship and at the European Championships 2014 and 2016. Not least thanks to his 19 goals in the difficult qualifying group with Poland, Romania and Belarus, Serbia finally qualified for the upcoming European Championship in January 2018 in Croatia. Before his foreign delegates, he played at club level in his home for Red Star Belgrade. At all clubs he gained in all years additional international experience in the Champions League and in the EHF Cup. Zelenovic measures 1.94 m in height and can be used fully in both attack and defense.
The sports director of FRISCH AUF! Christian Schöne on the signing: "Nemanja Zelenovic is a good and experienced backcourt player who fits in perfectly with our profile. His strengths include offensive and defensive alike. He is particularly strong in the game "1 against 1". Also to be highlighted are his fighting qualities. We also got to know him in the talks as a very sympathetic and open person."