Wetzlar agrees with Čavor to 2020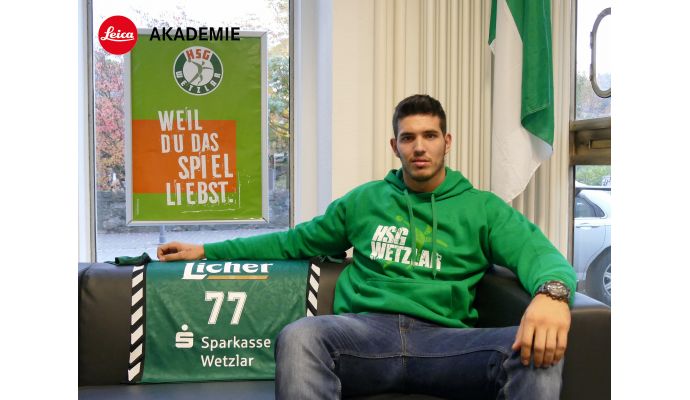 Photo: hsg-wetzlar
Written by: Rasmus Boysen
The 22-year-old Montenegrin national player Stefan Čavor has extended his contract with the German Bundesliga club HSG Wetzlar long-term.
Due to the shoulder injury of the Portuguese right back Joao Ferraz HSG Wetzlar in October 2016 signed the Montenegrin right back of the Hungarian club Csurgói KK, Stefan Cavor, with immediate effect for the rest of the season (read more here). Now, the youngster has convinced the club of his talent and the two parties have extended the contract long-term with 3 years to the summer of 2020. In 13 matches, the 22-year-old has already scored 41 goals for HSG Wetzlar.
"With his positive attitude to life, Stefan has introduced himself into the team without problems and convinces us with his past performance. With just 22 years, he already has an enormous physique and a very promising development potential in defense and attack. Stefan appreciates that he finds ideal conditions in Wetzlar in order to develop steadily. Together with Joao Ferraz, who will soon be back in the training business, he will be a strong duo in the right back court next season," says HSG Managing Director Björn Seippin a press release from HSG Wetzlar.
"It is great that I am now in the Bundesliga in Wetzlar! This is a great experience and challenge for me and is what I always wanted. I feel comfortable and almost at home! The four months have gone fast. However, the team, coaches and co-workers have also made it easy for me to arrive in Wetzlar. We are kind of like a big family," the Montenegrin national player states.
Stefan Čavor started his career in the Montenegrin club RK Budvanska Rivijera. At the age of 16 the frormer Spanish national player Rolando Uríos, who was responsible for Ciudad Real as coach for the second team and the junior team, discovered him and got Čavor to go to Spain. In the 2013-2014-season he played in the Slovenian top club RK Celje before joining the Hungarian club Csurgói KK in 2014.
Stefan Čavor has played 6 caps and scored 8 goals for the Montenegrin national team.