Rumor: German pivot to Flensburg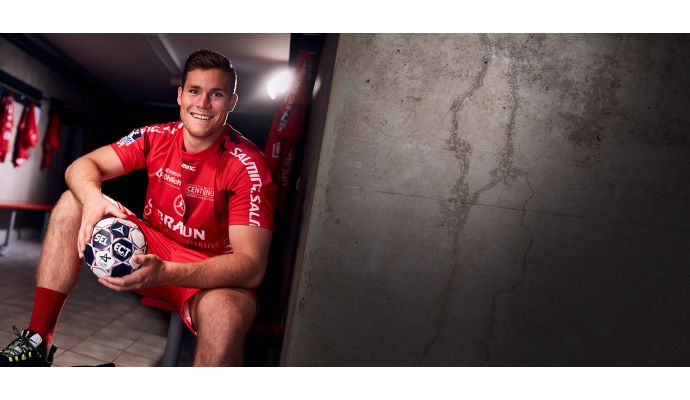 Photo: mt-melsungen.de
Written by: Rasmus Boysen
The talented German pivot of the German Bundesliga-club MT Melsungen, Johannes Golla, leaves the club after this season. He is rumored to the League-rivals SG Flensburg-Handewitt.
In a press release announced today, the German League-club MT Melsungen announces, that the 20-year-old talented German pivot, Johannes Golla, leaves the club when his contract expires at the end of the season.
The physically strong pivot came as a 17-year-old to MT Melsungen from Eintracht Wiesbaden. The temporary injuries of Marino Maric and Felix Danner was then the luck of Johannes Golla. Instead of obliging another veteran in the phases in question, Michael Roth gradually gave the young player more responsibility.
"All the more we think it's a pity that Johannes will leave us now, such a decision ultimately falls to the player and ultimately one has to accept it," says managing director of MT Melsungen, Axel Geerken, in a press release from MT Melsungen.
"The first talks were already in the spring, more than a year before his contract expires in June next year. I think we offered him a very attractive package from our point of view. Sporty, we have his perspective with us anyway classified as absolutely promising. And not only because of the fact that now 16 instead of 14 players are allowed on the sheet. Johannes has finally proved that he justifies the confidence placed in him on the court. If he had feared that he would be only the number three on the pivot position behind Marino Maric and Felix Danner, we would not share this assessment. But we have to come to terms with his decision and wish him all the best in his sporting development," Axel Geerken adds.
"I am very grateful to the club, the coach and the whole environment for the great support I received during my three years at MT Melsungen. I should get the opportunity to concentrate fully on the performance handball after graduation and I have to say that my original expectations were clearly exceeded. The next step I'm going to take was more out of the gut," says Johannes Golla.
According to the German newspaper Hessische Niedersächsische Allgemeine the talented German pivot joins SG Flensburg-Handewitt after this season. At the moment SG Flensburg-Handewitt has 3 pivots in the squad. Both the 31-year-old German pivot, Jacob Heinl, and the 30-year-old Danish pivot Henrik Toft Hansen, have contracts which expire at the end of the season, while the 26-year-old Danish pivot Anders Zachariassen has a contract to the summer of 2019. Furthermore, the Danish national player of Aalborg Håndbold, Simon Hald, has previously been rumored to the North German top club (read more here).