Schiller continues in Göppingen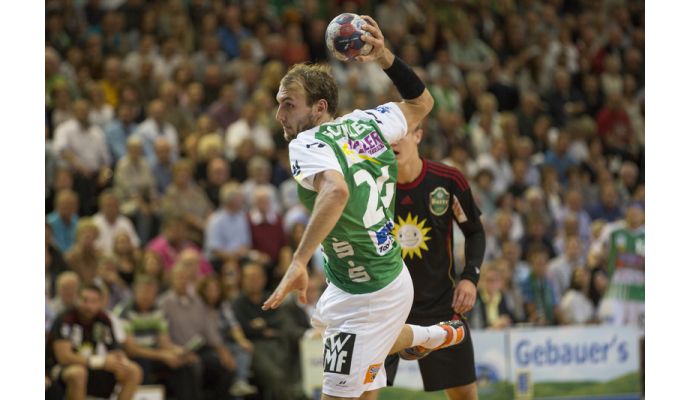 Photo: frischauf-gp.de
Written by: Rasmus Boysen
The 25-year-old German left wing of Frisch Auf! Göppingen, Marcel Schiller, extends his contract with 2 years to the summer of 2019.
Press release from Frisch Auf! Göppingen:
Frisch Auf! extends with Marcel Schiller
Frisch Auf!-left wing Marcel Schiller and Managing Director Gerd Hofele today signed a contracts under for an extension until 2019. The 25-year-old left wing, who in 2013 came to Frisch Auf! from the TV Neuhausen/Erms, is going to be in Göppingen in the coming July in his fifth and sixth year of contract.
As a result, the club and the players continue the good cooperation, which culminated last year with the EHF Cup title. With 161 goals, he was not only the best scorer of Frisch Auf!, but placed himself as seventh in the middle of the top ten of the Bundesliga top scorer list. And in the EHF Cup, he missed with 69 goals in twelve games only just a few shots.
Both Frisch Auf! as well as Marcel Schiller were interested in a continuation of the cooperation and thus the negotiations into a new two-year contract until 2019. Frisch Auf! Is delighted with Marcel Schiller's stay. He is one of the players from the region of Württemberg, who has made the leap into the top handball and with good performance has contributed to the success of Frisch Auf!.
Coach Magnus Andersson on the extension: "I am delighted that Marcel wanted to stay here because he has proved to be a good left winger." Marcel Schiller himself is also happy: "I am looking forward to two more years in the jersey of Frisch Auf! I hope that it soon goes well for us again and I want to do my part. "
Read also: The contract expirations of Frisch Auf! Göppingen.