
15:03 19-September-2017
Göppingen signs Slovakian right wing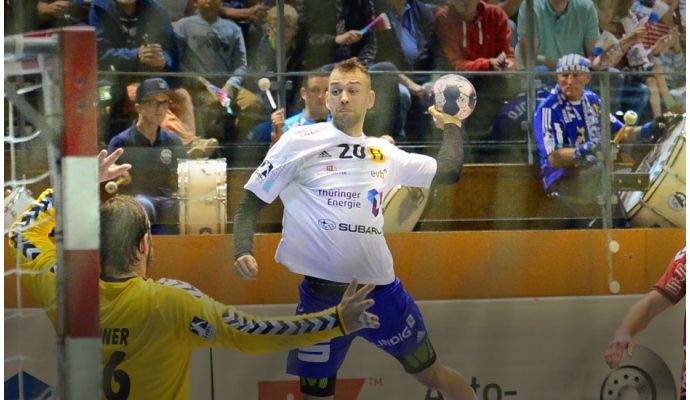 Photo: thsv-eisenach.de
Written by: Rasmus Boysen
The German Bundesliga club Frisch Auf! Göppingen has signed the Slovakian national player Tomas Urban due to injuries.
Press release from Frisch Auf! Göppingen:
Frisch Auf! Göppingen has responded to the injurious miseries on the right wing position with a post-commitment. With immediate effect transfers the Slovakian national player Tomas Urban from the ThSV Eisenach to Frisch Auf! Göppingen! The 28-year-old left-hander receives a contract until the end of the season and will be ready for the home game against TBV Lemgo next Thursday, 21 September 2017 (7.00 pm, EWS Arena), if the formalities can be regulated quickly with the HBL.
Frisch Auf! Göppingen reacts with the commitment of Tomas Urban to the long-term injury of Anton Halen, who had been severely injured at the breast muscle and had to be operated. Halen is out until 2018. In addition, Marco Rentschler is not available due to a meniscus operation for the time being.
Tomas Urban comes from the Slovak handball-school of Kosice. The 1.88 m sized handball player has already completed 110 national caps for his home country. In June, he was the best scorer in the European Championship qualifier against Russia with 9 goals. He has played in Veszprem and Tatabanya, before he moved to the Slovakian top club Tatran Presov. There he celebrated his greatest success as a Slovakian champion and cup winner. In the year 2015, Tomas Urban then switched to the former Bundesliga clubr ThSV Eisenach, where he has now become a spectator favorite.
Because the biggest goal of Tomas Urban was to establish himself in the Bundesliga, he did not have to think too much about the request from Frisch Auf! Göppingen.
Head coach Magnus Andersson is also satisfied: "I am glad the club has responded quickly and we have found a really good solution for the injuries of Anton and Marco in a short time."
The Sports Director of Frisch Auf! Göppingen Christian Schöne is particularly grateful to ThSV Eisenach: "The ThSV Eisenach - and especially manager Karsten Wöhler - was very cooperative in the discussions and did not put Tomas Urban in the way from the beginning. So we could accomplish this transfer uncomplicated. We expressly thank the ThSV in this way."
Tomas Urban will play in number 20 in his new club.