Goalkeeper leaves TVB Stuttgart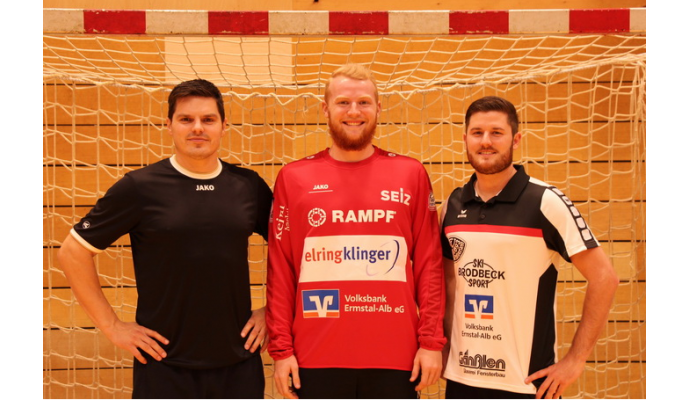 Photo: handball-neuhausen.de
Written by: Rasmus Boysen
The German goalkeeper Yannick Hölzl leaves the Bundesliga club TVB 1898 Stuttgart to join the 2. Bundesliga club TV Neuhausen.
Press release from TV Neuhausen:
"Yannick Hölzl comes from TVB Stuttgart
TV Neuhausen signs a young goalkeeper as a backup
He expandss the goalkeeper's squad of the entire TVN handball. Yannick Hölzl is eligible to play for both Neuhäuser Handballteams from this weekend. Both in the 2nd Bundesliga and in the Landesliga at the TVN II.
It is not often the case that the first and second team of a club jointly commit a player. But this is now the case with the handballers of the TV Neuhausen. Yannick Hölzl comes from the first division TVB Stuttgart to the Erms.
The 19-year-old goalkeeper has trained in the youth of the Stuttgarter and was in the past season several times on the Bundesliga squad, thus also got game practice in the strongest league of the world.
Now he changes from the Neckar to the Erms and strengthens the TV Neuhausen both in the 2. Bundesliga and in the Landesliga.
"I was four years with Bittenfeld, now I want to take the next step in my development," says Hölzl, looking forward to the new tasks.
Up to three times a week he was coached by Aleksandar Stevic in the Bundesliga team and acts as a backup of the two main players Magnus Becker and Daniel Rebmann.
"Yannick has been training with us for a while, is committed and very talented," Aco Stevic praises his new goalkeeper, who will be there when one of the other two goalkeepers is out of action.
The machine builder collects game practice in the regional league with the second team. After a dream start, the departmental players tops the table. Markus Bühner, Cheftrainer of the second team is also happy about the new entry between the posts, especially since his first goalkeeper Toni Lutter is missing:
"It is always good, when such a goalkeeper with perspective comes to us. The cooperation between the first and second team works well, that brings all further."
Yannick Hölzl is back after four weeks of forced pause, due to the change during the round. Arrived at the TVN he is always:
"I felt good right at the first training in both teams and am now looking forward when it goes on the court."