Filip Taleski to Rhein-Neckar Löwen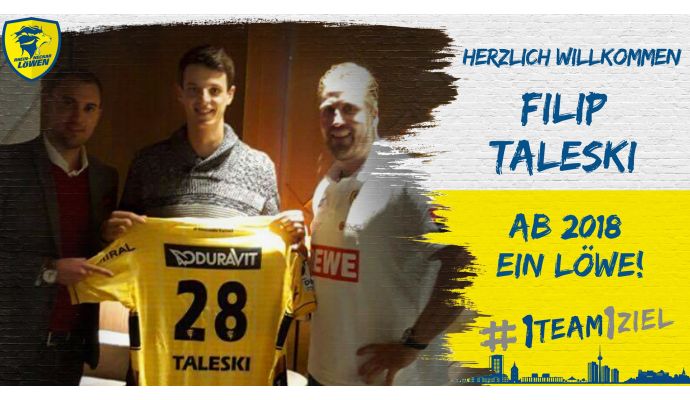 Photo: http://www.rhein-neckar-loewen.de/
Written by: Rasmus Boysen
The 20-year-old Macedonian shooting star of RK Metalurg Skopje, Filip Taleski, has signed a 3-year contract with the German champions Rhein-Neckar Löwen from the summer of 2018 to the summer of 2021.
The 20-year-old Macedonian left back Filip Taleski is one of the greatest talents in European handball. Currently, he is the captain of the Macedonian top club RK Metalurg Skopje and plays in the Macedonian national team.
Filip Taleski in a press release from Rhein-Neckar Löwen about the transfer. "Every young handballer dreams of the Bundesliga, and with the Rhein-Neckar Löwen I change not only to the best club in Germany but to one of the top clubs in Europe."
"We are delighted that Filip has chosen the Rhein-Neckar Löwen. He is a great talent and wants to take the next step in his career with us," said Oliver Roggisch, Sports Director of the Lions.
CEO Jennifer Kettemann is also looking forward to the upcoming newcomer: "Filip is the future, wether he meets us before the summer of 2018, we will see. We are in talks with his club. "
He is a product of the talent fabric of RK Metalurg Skopje and has been an integral part of the Macedonian youth national team.
We previously wrote about the transfer.
Fact box:
Name: Filip Taleski
Date of birth: 28.03.1996
Nationality: Macedonian
Caps: 5 (6)
Clubs:
RK Metalurg Skopje, Macedonia