Turbotransfers, Dubai and the PGE Narodowy stadium!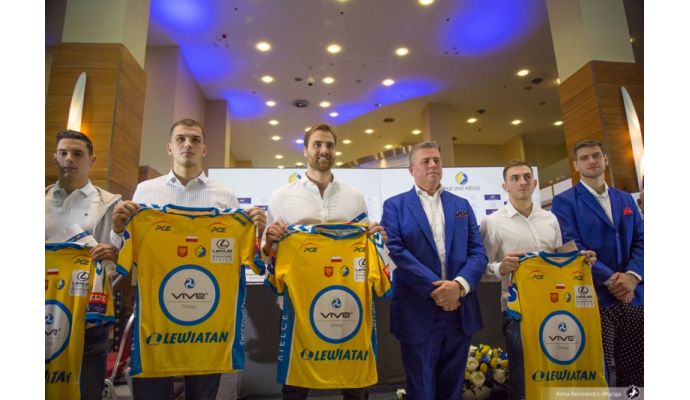 Photo: kielcehandball.pl
Written by: Rasmus Boysen
The Polish champions Vive Kielce revealed huge news on a press release today.
Press release from Vive Kielce:
Six new players, three extended contracts and a friendly match at the PGE Narodowy stadium in Warsaw – such bunch of information was shared with journalist that attended the press conference of PGE VIVE Kielce in the Courtyard by Marriott Warsaw Airport hotel at today's afternoon. Among the names who will join the Polish champions is one of the best goalkeepers in the world, Andreas Wolff!
After today's press conference it's obvious that PGE VIVE Kielce builds a team for a long bright future! The players presented in Courtyard by Marriott hotel in Warsaw will guarantee a top sports level for years. Next season Kielce will be joined by: young Polish winger Arkadiusz Moryto, Croatian winner of the last Velux EHF Champions League Luka Cindrić, Spanish left winger Ángel Fernández Pérez and line player from Belarus Artsem Karalek.
Next year to Kielce will come one of the biggest stars of current handball – gold medalist of the EHF EURO 2016 and bronze medalist of the Olympics in Rio de Janeiro, Andreas Wolff! The goalkeeper will become part of the team for four years untill 2023! In 2020 for three years will come French line player Nicolas Tournat.
Moreover, the coach Talant Dujshebaev and the players Julen Aguinagalde and Dean Bombac decided to extend their contracts. The coach will stay in Kielce untill 2023, Slovenian playmaker untill 2022 and the Spaniard till 2019.
The president of the club, Bertus Servaas, informed also about his plans of organising friendly matches between his team and FC Barcelona Lassa. At 21.12.2018. PGE VIVE Kielce will play in a prestigious 500 SuperFinal HBL. The winner will play against other oponent next year.
Against Barca Kielce will play also in the Summer of 2020 or 2021 at the PGE Narodowy national stadium. It will be the next friendly game with a foreign club taking place beyond the Świętokrzyskie region borders, after playing against PSG in Kraków, in August 2015. During the then show, that finished with a draw 32:32, the handball record attendance in the country was beaten thanks to 15.300 spectators present in the arena.
The press conference was led by the Marketing Director Paweł Papaj and the former player Grzegorz Tkaczyk, who currently co-operates with the club. At the stage they were joined by Mariusz Jurkiewicz helping with Spanish translation. All the new players received club jerseys. In addition the foreigners were given a Polish language textbook.
Extended contracts:
Coach Talant Dujshebaev: untill 2023 (6 years)
Julen Aginagalde: untill 2019 (1 year)
Dean Bombač: untill 2022 (5 years)
New players:
Luka Cindrić (CRO): 2018 – 2021 (3 years)
Date of birth: 05.07.1993.
Position: centre back
Current club: HC Vardar Skopje (MKD)
Arkadiusz Moryto (POL): 2018 – 2021 (3 years)
Date of birth: 31.08.1997.
Position: right wing
Current club: Zagłębie Lubin (POL)
Ángel Fernández Pérez (ESP): 2018 – 2021 (3 years)
Date of birth: 16.09.1988.
Position: left wing
Current club: Naturhouse La Rioja (ESP)
Artsem Karalek (BLR): 2018 – 2022 (4 years)
Date of birth: 20.02.1996.
Position: line player
Current club: Saint-Raphael Var Handball (FRA)
Andreas Wolff (GER): 2019 – 2023 (4 years)
Date of birth: 03.03.1991.
Position: goalkeeper
Current club: THW Kiel (GER)
Nicolas Tournat (FRA): 2020 – 2023 (3 years)
Date of birth: 05.04.1994.
Position: line player
Current club:: HBC Nantes (FRA)
Moreover, in 2018 PGE VIVE Kielce will be joined by Serbian goalkeeper Vladimir Cupara, who currently plays in Abanca Ademar Leon.