TTH signs goalkeeper talent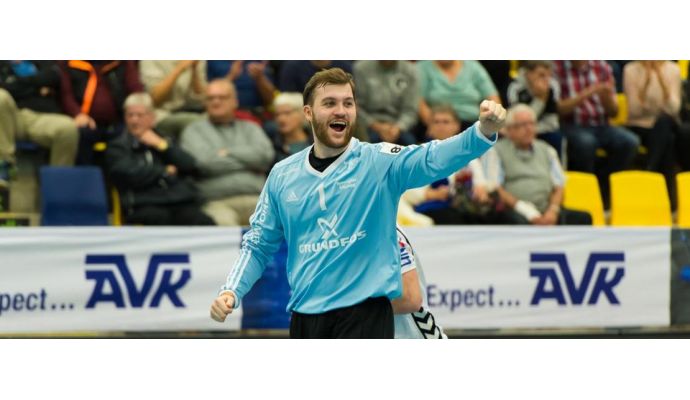 Photo: tthholstebro.dk
Written by: Rasmus Boysen
The 23-year-old Danish goalkeeper Sebastian Frandsen has signed a 3-year contract with the Danish League club TTH Holstebro from next season.
Press release from TTH Holstebro:
23-year-old Sebastian Frandsen moves to TTH on a 3-year contract
When Torbjørn Bergerud after this season moved to SG Flensburg-Handewitt, Sebastian Frandsen will form the new goalkeeper duo with Simon Gade. Sebastian Frandsen arrives at TTH after two seasons in BSV.
TTH Director John Mikkelsen is very much looking forward to accessing the young goalkeeper profile.
"Despite his young age, he is already a strong league goalkeeper and we are sure he has much more in himself. In TTH Holstebro, we have many times proved that we have a set-up where we can move young talents to become league profiles and later national team players. We also believe in that with Sebastian Frandsen," says John Mikkelsen.
Sebastian Frandsen looks forward to great experiences in Gråkjær Arena.
"I'm really looking forward to coming to TTH Holstebro. My knowledge of the club is very good. I know more of the players, and at the same time I've worked a lot with Michael Bruun when I played in the youth national team. I like what I've seen and I'm looking forward to becoming part of the strong environment and facilities in the club."
The 204 cm high goalkeeper is in no doubt as to what the goal is when he joins the TTH.
"I'm in a place in my career where I need more responsibility and playing time. I have to go in and have some responsibility. I've tried that before, and I like that. At the same time, TTH is a club that deals with medals and of course it is also a plus. I have chosen a club earlier in my career to look forward to winning something but now it's about my development," says Sebastian Frandsen and emphasizes that he will do everything he can to lead his current club BSV to success for the rest of this season.
TTH head coach Patrick Westerholm is pleased that Sebastian Frandsen managed to get to the club.
"I'm really glad Sebastian will be in the TTH goal next season. When we got the opportunity to associate Sebastian with the club, I was in no doubt that he was the right one for us. In Sebastian Frandsen and Simon Gade we get a goalkeeper couple, who is 'routine young' and very, very talented. At the same time, we get a duo that is very different in style and it is just after my head," says Patrick Westerholm.