Tønder and Ribe-Esbjerg swap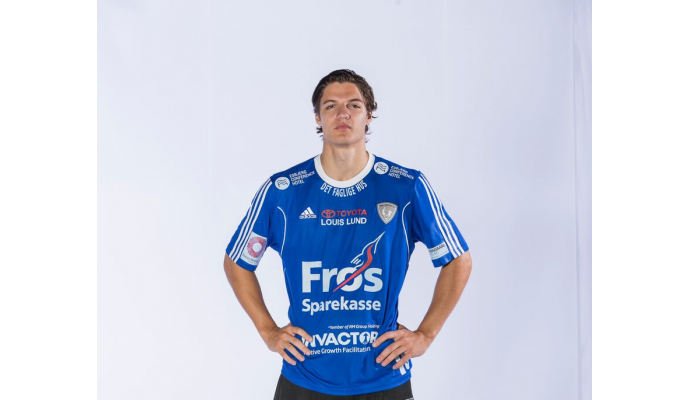 Photo: REHH.dk
Written by: Rasmus Boysen
The 20-year-old Danish right back of the Danish League club Ribe-Esbjerg HH, Benjamin Holm, has signed a 2-year contract with the League rivals TM Tønder from next season to the summer of 2019.
Earlier in the season Ribe-Esbjerg HH revealed that the club had signed a 3-year contract with the right back of TM Tønder, Nikolaj Enderleit (read more here). Now, the current right back of Ribe-Esbjerg HH, Benjamin Holm, has been revealed as the successor of Enderleit in TM Tønder.
Press release from TM Tønder:
TM Tønder has from the upcoming season secured a new right back player. Benjamin Holm comes to the club from Ribe-Esbjerg HH on a 2 year contract.
About moving to TM Tønder Benjamin Holm says:
"I have chosen TM Tønder, because the time for me has come to begin a new handball chapter. The goal has been to find a club where I can get some playing time and a role on the team. TM Tønder seems like an exciting club for me, and after a few conversations with the club, I was in no doubt that this is a good club for my further development. The goal for me in TM Tønder is to get a role on the team and continue my development, and thus become an established right back at a club in the top of Danish handball. TM Tønder seems like an incredibly exciting club. It is a young team with a lot of good individual skills, where I think I will fit well. They have a really good homecourt with an incredible atmosphere and lots of support from the audience."
Sports Manager René Hamann-Boeriths warmly welcomes the approach of Benjamin Holm:
"Benjamin is an exciting young left-handed player on the right back position who has great potential. He is a two-way player with a good physique and has a high level in both defense and attack. We are certain that Benjamin will develop in TM Tønder, and become one of the main players on the team. We are pleased that we have managed to get associated with such a skilled player on such an important position as right back on a two-year contract "