Frisk stays in Alingsås to 2019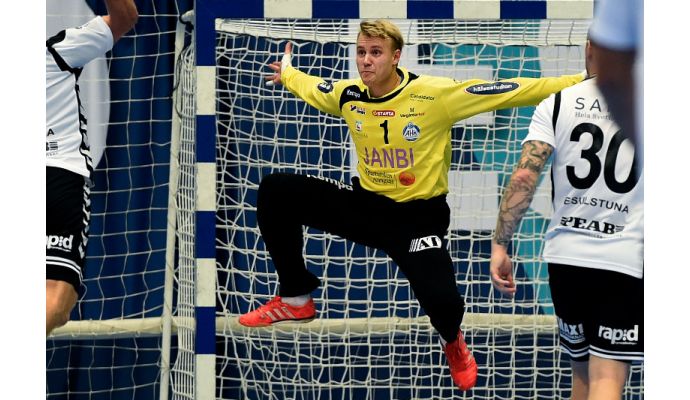 Photo: ahk.nu
Written by: Rasmus Boysen
The talented Swedish goalkeeper, Rickard Frisk, extends his contract with the Swedish top club Alingsås HK to 2019.
The 23-year-old Swedish goalkeeper talent, Rickard Frisk, remains an Alingsås player to at least the summer of 2019. Press release from the club:
He has had success in his first two seasons in Alingsås HK. Now it is clear that the goalkeeper Rickard Frisk stay at the club for two more seasons after this one.
"It feels great to be a part of the AHK in the next seasons. I look forward to develop further along with the team and gaining even more experience from Handbollsligan- and European games. We have a strong team and hopefully I can help with stability, so that we can achieve our goals," says the 23-year-old.
Few had heard of Richard Frisk when he was recruited to Alingsås HK in 2014, but he had also played only one season in the league. As Michael Aggefors he came from Tumba.
During his first Elite League season, he had the best MEP of all goalkeeper in the league and took place in the season's All Star Team. Last season, he excelled in the autumn when Mikael Aggefors was damaged. During his first two seasons, he has had over 40 in save percentage - a very impressive figure.
Mikael Franzén, head coach: "Rickard is a pearl that we became aware of as he threw very well and started the game fast. He has also shown he can reach a high save percentage and be a good goalkeeper. It feels good that we can develop together in the coming years. "
Per Johansson, Team Manager: "We dropped off Michael Aggefors knowing that we were going to nurture a new established goalkeeper in the high class of the nation. We did not go over the bridge to find his replacement, but he was already in the squad. Rickard has the similar potential and we are pleased to be working with him to at least 2019. "
Fact box:
Name: Rickard Frish
Date of birth: 03.12.1992
Nationality: Swedish
Position: Goalkeeper
Height: 191 cm
Weight: 90 kg
Clubs:
Tyresö Handboll, Sweden
-2014: Capeirotumba, Sweden
2014- Alingsås HK, Sweden: