Adam Nyfjäll returns to Sweden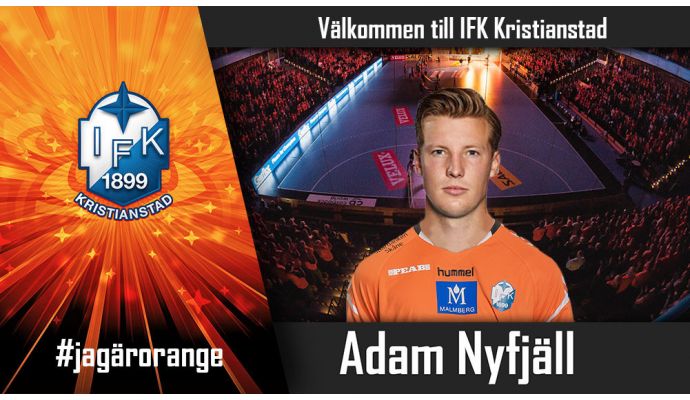 Photo: ifkkristianstad.se
Written by: Rasmus Boysen
The 25-year-old Swedish pivot Adam Nyfjäll has been announced as new player of the Swedish champion IFK Kristianstad from next season.
In early November he confirmed interest from IFK Kristianstad (read more here), this morning it was announced, that he would leave his current Danish club SønderjyskE after this season (read more here), and now the 25-year-old Swedish pivot, Adam Nyfjäll, has been published as new player of IFK Kristianstad for the upcoming season.
Press release from IFK Kristianstad:
Welcome to IFK Kristianstad Adam Nyfjäll
IFK Kristianstad is pleased to present Adam Nyfjäll as new player in the club. The 25-year-old pivot has signed an agreement until the summer of 2020. The agreement will start in July 2018.
Adam Nyfjäll comes most recently from Danish SønderjyskE, where he has been an important player. After two successful seasons in Denmark, several clubs have raised their eyes for the pivot from Lysekil.
Adam has gone a different way in his career. Only when he was 18, he started playing as pivot and then took the step from Kroppskultur to Norway and on to the Danish league. Adam, who left Sweden at the age of 20, now making comeback in Sweden and debut in the Swedish league.
Adam is described as a winner, who does not like to lose. He plays a physical handball and has a good game of mind.

The Fantasy Game of the Women's Handball World Championship 2017. At least 200 Euro in prizes!
"In Sweden, IFK Kristianstad is the leading handball club. They have built up an interest and a handball culture that I want to be a part of. I have seen some matches on the TV and look forward to playing in Kristianstad Arena. We were on training camp with SønderjyskE in Kristianstad last summer and saw what opportunities there are in Kristianstad. Several players have developed a lot in the club and I think IFK Kristianstad is the right club for me in my career, says Adam Nyfjäll.
Jesper Larsson, Sports Manager IFK Kristianstad
"Adam is a player we have watched for a while. He has had a good development in SønderjyskE and we believe he will continue to develop with us. A good pivot with a warrior heart that will be useful in IFK Kristianstad," concludes sports director Jesper Larsson.