Playmaker is considering the future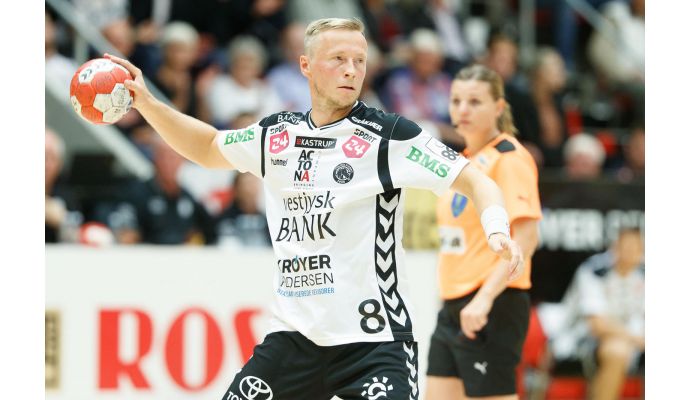 Photo: tthholstebro.dk
Written by: Rasmus Boysen
The Finnish playmaker of the Danish League club TTH Holstebro, Jac Karlsson, has a contract which expires at the end of the season, and the 31-year-old Finn is therefore considering the future in these days.
One of the best Finnish players of the century, the 31-year-old playmaker of the Danish League club TTH Holstebro, Jac Karlsson, may be on his way home to the Finnish town Karis, where his new house is soon ready-made. The former Finnish national player, who has been named the Handball Player of Finland 4 times, is in his third season in the Danish top club TTH Holstebro. The team is coached by another Finn from Karis, Patrick Westerholm.
The contract of Jac Karlsson expires, just like for the other playmaker of the club Martin Hansen, after the current season. The Finnish playmaker is currently considering three real options together with his agent and the family, he reveals to the Finnish media Yleisradio:
"No concrete negotiations are yet being conducted, but I and my agent have looked at some different options. Holstebro is of course one, but they have not been completely open to what they want until next season. We are open to all possibilities, both here in Denmark and also in Germany, and then we are building a house in Finland."
Jac Karlsson also thinks about his family in relation to the future:
"It would be different if I was alone, then I might dare to wait a little and hear if there are other bids in the spring, but now that I have a family, I have to think about them too. They also have a life with school and so."
Jac Karlsson do not promises to return to his first handball club in Finland BK-46 to end his career. But it seems likely, he states.
"If I play here for two years, I have to start thinking about what my body says. I had trouble with my back for a couple of seasons since, I could hardly sleep when I was so sick. Now the back is much better and if it continues so I do not see any problems playing for many years. Where ever we get, we'll get to see, but I've already talked with "Lillis" (Peter Kihlstedt, BK-46's manager, ed.) if I'm going to come home already next year," he states to Yleisradio.
Jac Karlsson has not been part of Finland's national team since 2013 and has previously rejected to make a comeback. But now he states that "it may happen if I move home, we'll see how it feels like it. But it is clear: there are opportunities."
After beginning his career in the Finnish club BK-46 in his home town Karis, Jac Karlsson joined the Norwegian club IL Runar. In 2010 he came to the Danish club Mors-Thy Håndbold before joining his current club TTH Holstebro in 2015.