Pascual has named his first national squad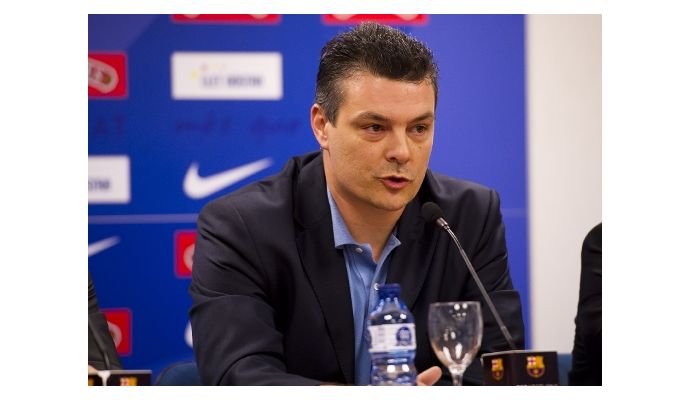 Photo: fcbarcelona.com
Written by: Rasmus Boysen
The new Romanian national coach Xavi Pascual has selected his first initial squad.
The daily head coach of the Spanish top club FC Barcelona, Xavier Pascual, has chosen to rejuvenate the Romanian team. Last cap of Romania the average age was 29. Now the average age is down at 27,3.
Pascual must do without right back Demis Grigoras (Tatabanya, Hungary) and left back Dan-Emil Racotea (Orlen Wisla Plock, Hungary) due to injuries in the European Qualifiers against Belarus and Poland in early November.
The Romanian roster:
Goalkeepers: Mihai Popescu (St. Raphaël, France), Ionuţ Irimuş (Dinamo Bucuresti), Ionuţ Iancu (CSM Bucureşti)
Left wings: Răzvan Pavel (Potaissa Turda), Nicuşor Negru (CSM Bucureşti)
Left backs: Georgică Cântec, Radu Lazăr (both Potaissa Turda), Ionuţ Ramba (TBV Lemgo, Germany)
Playmakers: Cristian Fenici (Poli Timişoara), Marius Szoke (Steaua Bucuresti), Alexandru Csepreghi (US Creteil, France)
Right backs: Bogdan Criciotoiu (Bergischer HC, Germany), Marius Sadoveac (Tremblay Handball, France)
Right wings: Andrei Mihalcea (HC Odorhei), Valentin Ghionea (Orlen Wisla Plock, Poland)
Line players: Adrian Rotaru, Iulian Stamate (both CSM Bucureşti), Marius Mocanu (Dinamo Bucuresti), Andras Szasz (HC Odorhei)