
15:41 15-September-2017
Gullerud stays in Minden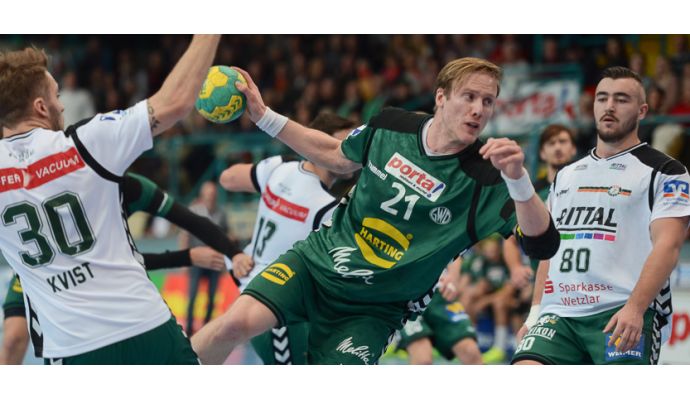 Photo: gwd-minden.de
Written by: Rasmus Boysen
The Norwegian national player of the German Bundesliga club GWD Minden, Magnus Gullerud, has extended his contract to the summer of 2020.
Press release from GWD Minden:
Magnus Gullerud remains at Minden. The line player of the Norwegian national team has extended this contract with the Green-Whites by two years until 2020.
Gullerud has been wearing the GWD jersey since the summer 2016. The 25-year-old scored 25 times in the last season in 25 occasions for Minden. With a hit rate of over 86 percent, the 1.94-meter man was one of the most reliable shooters in the league. In the national team, Gullerud has now played 81 matches and scored 93 goals.
"I am very glad to be able to play here for two more years in Minden. I hope I can improve and develop as a player. I would like to help GWD become a stronger team in the coming years," says Gullerud, and coach Frank Carstens is happy to be able to plan with his line player even longer: "Magnus is an exemplary athlete and a pillar of our team. He quickly became accustomed to the German league and stabilized his performance at a high level. It is a good sign that a player wants to push ahead with the development of GWD. "