German squad for European Qualifiers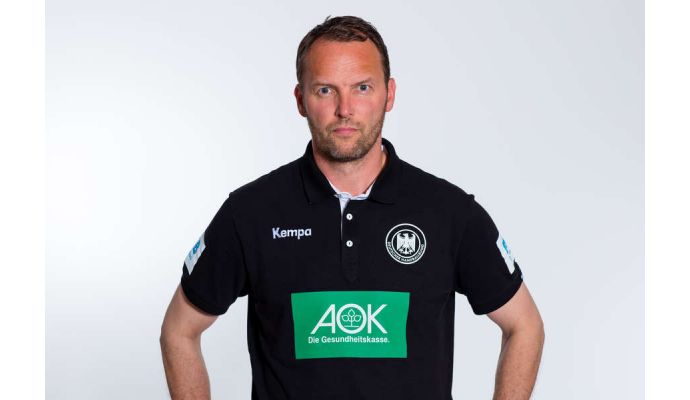 Photo: dhb.de
Written by: Rasmus Boysen
The head coach of the German national team, Dagur Sigurdsson, has named his squad for the upcoming European Qualifiers.
Bundestrainer Dagur Sigurdsson has nominated 19 players for the squad of the German national team for the Qualification matches for the European Championship 2018 in Croatia. In the Rittal Arena in Wetzlar the European champions meets Portugal (Wednesday, 2 November, 7 pm). Three days later the Germans plays away against Switzerland (Saturday, 5 November, 17.45 hours).
The biggest surprise of the squad is the two newcomers Philipp Weber and Dominik Weiß:
Goalkeepers:
Silvio Heinevetter (Füchse Berlin, 148 caps/1 goal).
Andreas Wolff (THW Kiel, 40/5)
Left wings:
Uwe Gensheimer (Paris Saint-Germain HB, France, 129/577)
Rune Dahmke (THW Kiel, 20/46).
Left backs:
Finn Lemke (SC Magdeburg, 41/21)
Steffen Fäth (Füchse Berlin, 41/81)
Philipp Weber (HSG Wetzlar, 0/0)
Dominik Weiß (TVB 1898 Stuttgart, 0/0)
Playmakers:
Simon Ernst (VfL Gummersbach, 26/21)
Niclas Pieczkowski (SC DHfK Leipzig, 19/20)
Paul Drux (Füchse Berlin, 40/90)
Line players:
Patrick Wiencek (THW Kiel, 92/212)
Hendrik Pekeler (Rhein-Neckar Löwen, 62/90)
Jannik Kohlbacher (HSG Wetzlar, 19/35)
Right wings:
Tobias Reichmann (KS Vive Kielce, 56/178)
Patrick Groetzki (Rhein-Neckar Löwen, 100/273)
Right backs:
Fabian Wiede (Füchse Berlin, 49/95)
Steffen Weinhold (THW Kiel, 93/243)
Kai Häfner (TSV Hannover-Burgdorf, 39/84).
The following players will be available as a reserve on the 28-man initial squad:
Carsten Lichtlein (VfL Gummersbach), Dario Quenstedt (SC Magdeburg); Johannes Sellin (MT Melsungen), Erik Schmidt (TSV Hannover-Burgdorf), Matthias Musche (SC Magdeburg), Nikolai Link (HC Erlangen), Tim Suton (TBV Lemgo), Nicolai Theilinger (HC Erlangen), Daniel Fontaine (Frisch Auf Göppingen).
Left back of THW Kiel Christian Dissinger and the left back of VfL Gummersbach Julius Kühn are out with an injuries, while playmaker of HBW Balingen-Weilstetten Martin Strobel takes a break from the national team.