GOG signs talented right wing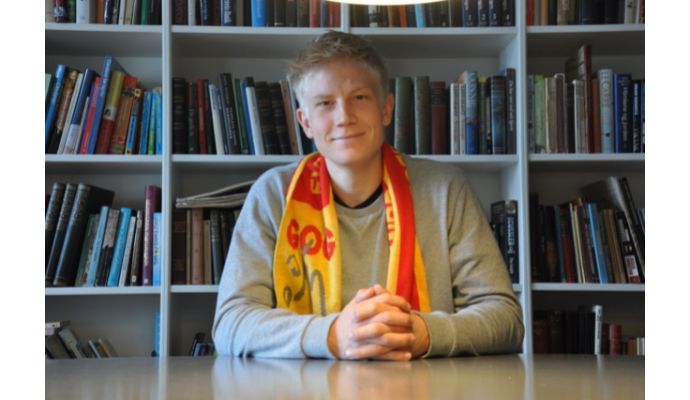 Photo: gog.dk
Written by: Rasmus Boysen
The 18-year-old Danish right wing Frederik Bo Andersen has signed a 2-year contract to the summer of 2019 with the Danish League club GOG.
Press release from GOG:
After a great start at GOG's League team, the club and Frederik Bo Andersen have now chosen to get paper on each other this and next season. And the yellow shirt fits well with the young talent.
Originally, he comes from Roskilde, but for the last two and a half years he has lived on Fyn. Two seasons at GOG's U18 team resulted i two times Danish Championship gold, and the talented right wing is now a permanent man on the GOG League with a two-year contract.
"I've been in a very good development over the past two years, where I've been playing for GOG. And I think there is still a lot of potential left and I still can develop in GOG," says Frederik Bo Andersen.
Frederik Bo Andersen has been selected for the upcoming U20 national team camp in October. In addition to the good news, a contract with the league club GOG comes.
"Of course, it's a dream come true. When I've seen the league games run on Gudme, I've just thought: I'll try that too. And when it's you who runs on the track, it's just cooler," says Frederick Bo Andersen.
At the office of the SU'VI:T Arena they are also happy for the signature of the left-handed wing player.
"We are extremely happy to have made a two-year deal with Frederik Bo Andersen, one of the biggest talents on the right wing in Denmark. He has already shown his worth and we expect a lot of him in the coming seasons, where he will certainly develop further. At the same time, he is another proof of the food chain, our fantastic youth department makes for talent development," says GOG's director Kasper Jørgensen.
Frederik Bo Andersen got a few minutes on the pitch in the match in Skanderborg, where he made four goals.
"It's nice now to have a contract and be a regular man on the team. I want to spend the minutes I get sensible and just give it all I have," the 18-year-old GOG wing says.