Assistant coach continues in Mors-Thy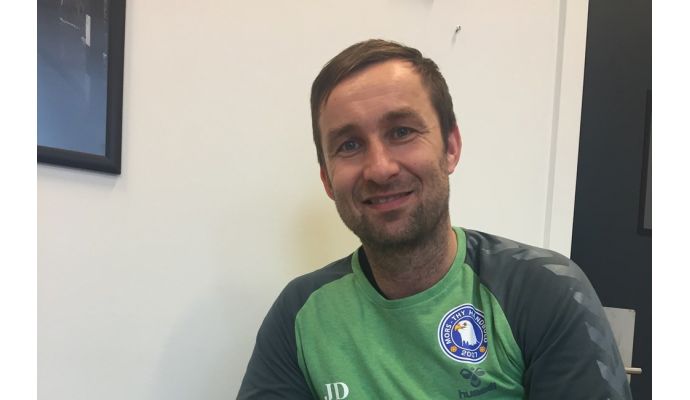 Photo: morsthy.dk
Written by: Rasmus Boysen
The former goalkeeper of the Danish league and current assistant coach of the Danish league club Mors-Thy Håndbold, Jonas Degnbol, extends his contract to the summer of 2019.
Press release from Mors-Thy Håndbold:
Jonas Degnbol in Mors-Thy Håndbold to 2019
Assistant coach continues with Søren Hansen
For less than five months ago Jonas Degnbol signed his first contract with Mors-Thy Håndbold, and now he has signed a new one. The two parties are so fond of each other that they have chosen to extend the agreement for another two years.
Henrik Hedegaard, Mors-Thy Håndbold: "We took a bit of a chance, when we made the agreement with Jonas up to this season as he has never coached at a high level. But in the relatively short time that Jonas has been in Mors-Thy Håndbold, he has shown us that we have chosen correctly. Jonas comes with a lot of valuable experience from his many years as a player at the top level, and in addition to being well-liked and appreciated by both players and managers of the club, as he bids also in with a lot both to the players and to Jan Paulsen. We are extremely satisfied that our coaching team is in place for the coming seasons, so we can now start putting together next season's squad. "
Jonas Degnbol: "I am delighted to continue in Mors-Thy Håndbold. I like the culture here in the club - unity, support in a packed arena and the family-like feeling - it is very similar to the handball culture I grew up with. And I enjoy being with Jan Paulsen, as I have learned from my first time here, while I look forward to working together with Søren Hansen, who I know through TTH Holstebro. There is a considerable task to lift the great job that Jan has done here, and of course there are lots of things that we need to build on, while also going to be changed. I look forward to the next two years and are sure it will be exciting. But first this season must be played and completed properly, and I and the team will do everything for that to happen. "